Peru Odebrecht scandal: President Kuczynski faces impeachment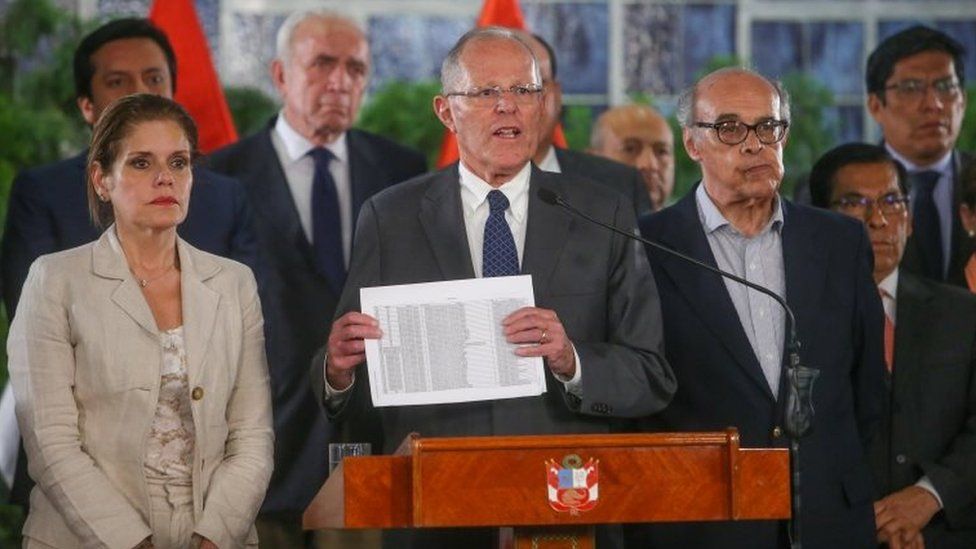 Political parties in Peru's Congress have submitted an impeachment motion against President Pedro Pablo Kuczynski.
He has been accused of receiving illegal payments by the Brazilian construction company Odebrecht.
The motion, which was signed by politicians from most parties, says Mr Kuczynski lacks the "moral capacity" to lead the country.
He has denied the allegations and rejected calls for his resignation.
The president of Congress, Luis Galarreta, told Reuters news agency the president might be removed from office within a week.
The Congress has 130 members and Mr Kuczynski's centre-right party, Peruvians for Change (PPK), has only 18 elected congressmen.
Eighty-seven members of Congress would have to vote against the president to oust him.
Odebrecht had previously admitted paying bribes to officials in Brazil, Peru and many other countries to secure lucrative building contracts.
Mr Kuczynski, 79, initially denied receiving any money from Odebrecht. He now denies receiving any illegal payments but admits working on an advisory basis for the firm.
This week, however, Odebrecht sent a letter to a congressional anti-corruption committee saying it had paid $5m (£3.7m) in advisory fees when he was in a previous government role.
Politicians are accusing Mr Kuczynski of lying to the country.
The payments by Odebrecht were made to Westfield Capital Ltd, a company owned by Mr Kuczynski. He said that while he owned the company, he was not its manager when it received the payments.
Mr Kuczynski, a former Wall Street banker, has pledged to testify before a congressional commission on Odebrecht wrongdoing in Peru on December 22.
Odebrecht was fined a record $3.5bn by the US last year for bribing officials from various countries. Fraudulent "advisory fees" was one method the firm used to funnel bribes to officials, according to the case against the firm.
Former company president Marcelo Odebrecht, who is serving a 19-year jail sentence in Brazil and has agreed to co-operate in return for leniency, said Mr Kuczynski was hired as an adviser in Peru a decade ago, while he was economy minister.
Mr Odebrecht also told prosecutors that the construction company had paid $29m in bribes to Peruvian officials over many years.
Peru's right-wing opposition Popular Force party, which controls the country's congress, says there is enough evidence to prove corruption by Mr Kuczynski, a centrist elected last year to a five-year term.
The party had warned that it would attempt to begin impeachment proceedings against him if he did not offer his resignation.