Peru's Alberto Fujimori speaks after divisive pardon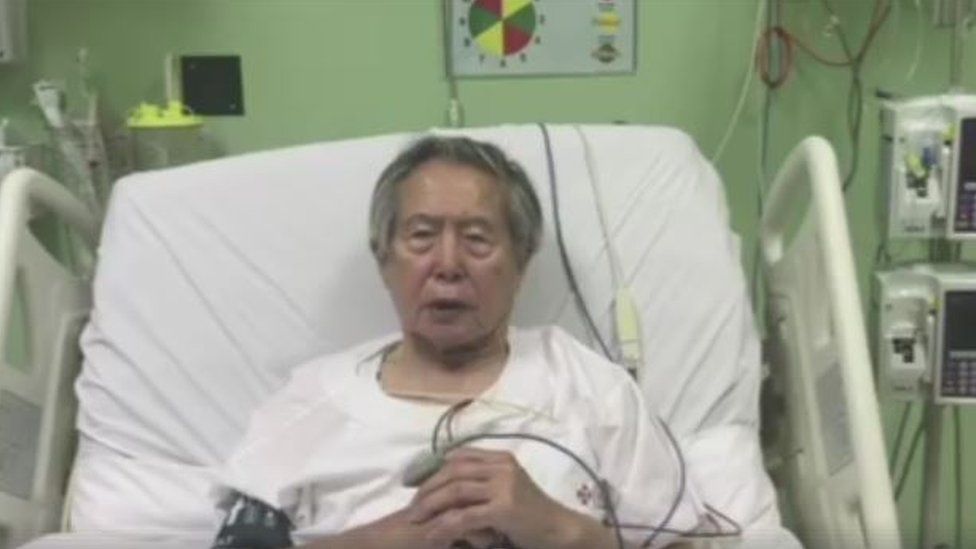 Peru's former leader, Alberto Fujimori, has thanked President Pedro Pablo Kuczynski for granting him a pardon on health grounds.
Speaking from his hospital bed, Fujimori said he was "deeply grateful".
Fujimori, who was sentenced to 25 years in prison for human rights abuses and corruption, also asked for forgiveness from Peruvians he had "let down".
His pardon triggered protests by Peruvians who think he should have served his term in full.
"I'm aware that the results produced by my government were well received by some," he said.
"But I recognise that I have let down others. Those I ask for forgiveness from the bottom of my heart."
He said that he fully backed President Kuczynski's call for reconciliation.
What was Fujimori convicted of?
In 2007, he was sentenced to six years in jail for bribery and abuse of power, but two years later was sentenced to another 25 years for human rights abuses committed while in office.
He was convicted of authorising killings carried out by death squads.
A statement from President Kuczynski's office said he had granted a "humanitarian pardon to Mr Alberto Fujimori and seven other people in similar condition", without naming the others.
Doctors, the statement added, had determined Fujimori had "a progressive, degenerative and incurable illness".
Mr Kuczynski later said: "I am convinced that those of us who consider ourselves democrats cannot allow Alberto Fujimori to die in prison. Justice is not vengeance...
"My decision is especially complex and difficult, but it is my decision."
Why is the decision controversial?
Protests erupted soon after news of the pardon came to light on Sunday, with many demonstrators waving pictures of victims of the counter-insurgency campaign.
"We believe the pardon was carried out in an illegal manner," one protester told Reuters.
"The reality is that this sadly was a political agreement between the Fujimorists and the current government."
The conservative Popular Force (FP) party, led by the former president's daughter Keiko Fujimori, controls Congress and on Thursday tried to impeach President Kuczynski over a corruption scandal.
However, her brother Kenji split the FP vote, allowing the president to stay in power and prompting the accusation that Fujimori's release had been promised in exchange.
"To save his own skin he [President Kuczynski] cut a deal with Fujimori's supporters," said leftist politician Veronika Mendoza, labelling the president's decision as treason.