Argentina prosecutor Alberto Nisman was killed, judge rules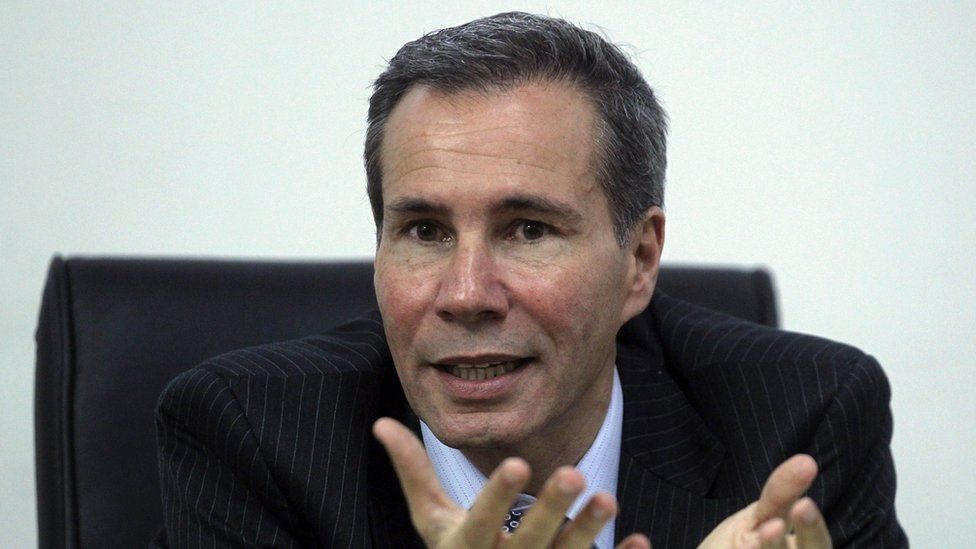 Alberto Nisman, the Argentine prosecutor who died hours before he was due to testify against former president Cristina Fernández de Kirchner, was murdered, a federal judge has found.
Mr Nisman died from a gunshot wound in his Buenos Aires flat in January 2015.
He had been due to testify the next day that Ms Fernández covered up alleged Iranian involvement in a deadly bombing at a Jewish centre in the city in 1994.
An official investigation had ruled that the prosecutor took his own life.
But federal judge Julián Ercolini ruled on Tuesday that Mr Nisman's gunshot wound could not have been self-inflicted.
Mr Ercolini also charged a former aide to the prosecutor, Diego Lagomarsino, as an accessory to murder.
Mr Lagomarsino was the last person in Mr Nisman's apartment and the bullet that killed the prosecutor was fired by Mr Lagomarsino's gun, the judge said.
The aide, an IT security expert, says Mr Nisman asked him for his gun, because he was afraid for his safety, and he gave it over. He denies any involvement in the death.
Speaking to journalists after the judge's report, Mr Lagomarsino said: "I'm very nervous, very tense, but I believe that sooner or later this is going to be resolved."
At the time of his death, Mr Nisman was in charge of an investigation into the bombing of the Argentine Israelite Mutual Association (Amia) in Buenos Aires - an attack that killed 85 people and wounded hundreds more.
It was the worst bombing in Argentina's history.
Mr Nisman alleged that Ms Fernández and her foreign minister Héctor Timerman worked to cover up alleged Iranian state involvement in the bombing in order to protect a trade deal between the two countries.
Ms Fernández, now a senator, was indicted for treason earlier this month over the alleged corruption. She denies the allegations, calling them "absurd".
No one has been convicted of the Amia bombing.