Peru closes dangerous coastal highway to coach traffic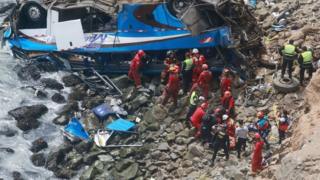 Peru's government has closed a dangerous coastal highway to buses after a coach plummeted over a cliff edge, killing more than 50 people.
Officials said coaches would have to use a safer parallel road normally used only by cars.
President Pedro Pablo Kuczynski also tweeted that the upper road would be expanded to take the extra traffic.
The bus was carrying 57 people when it crashed off the highway near the capital Lima on Tuesday.
On Wednesday, President Kuczynski said he had given instructions to widen the alternative route so that the dangerous section of the highway, known as the Serpentín Pasamayo, could be closed.
In the meantime, coaches would be banned from using the Serpentín Pasamayo, initially for six months, Minister of Transport Bruno Giuffra announced.
Six people survived the crash - one of them by jumping out of a window seconds before the coach fell. The man clung on to the cliff side with a broken arm before clambering up.
A video published on Twitter by Peruvian news channel ATV+ showed the 21-year-old hanging onto the cliff while people tell him to "stay put" and not to move until help arrives.
Máximo Jiménez Vilcayaure managed to climb up the cliff after a rope was lowered to him. The footage shows him walking away with a limp.
Doctors said he later checked himself into hospital "after getting there by his own means", where he was treated for a broken arm.
'Birthday trip'
Police said they had found the body of Alexandra Díaz Pasache, 21, and another young woman, in the wreckage raising the death told to 53.
Her mother said the young woman had travelled to the city of Huacho from her hometown of Lima with five friends to celebrate her birthday.
Ms Díaz Pasache spoke to her mother just minutes before boarding the coach back to Lima on Tuesday morning, telling her she wanted to get home early to rest before returning to work at a construction firm on Wednesday.
One of her friends was among the six people who survived the accident, local media reported.
Devil's bend
The coach was travelling along a notoriously dangerous stretch of road known as Curva del Diablo (devil's bend) in Pasamayo when it plunged down the cliff.
Peruvian police said its preliminary investigations suggested that a lorry was involved in the accident.
They said that one of the two vehicles had veered into the path of the other. The driver of the lorry has been detained.
On Tuesday, Mr Giuffra tweeted that initial reports indicated that both vehicles had been travelling at excessive speed.
The Serpentín Pasamayo runs alongside the Pacific Ocean and is considered one of the most dangerous in Peru.
It has no barriers separating it from a sheer drop to the ocean and the sea spray and frequent fog can make it particularly slippery.