Peru ex-leader Fujimori a free man after pardon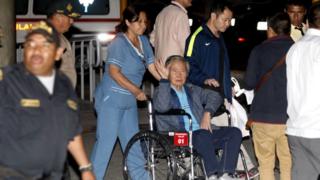 Alberto Fujimori, the ex-president of Peru, has left hospital in the capital Lima a free man, days after being granted a presidential pardon.
Mr Fujimori, 79, waved at media outside the hospital from his wheelchair.
He had been serving a 25-year sentence for human rights abuses during his time in office in the 1990s.
Last week, a group of Peruvian writers condemned the decision by the authorities to pardon him on health grounds.
The writers, among them Nobel Prize-winning author Mario Vargas Llosa, called it a disgrace for Peru.
Earlier in the week, thousands of people took to the streets in Lima and other cities to protest against the pardon.
Mr Fujimori's son, Congressman Kenji Fujimori, tweeted a photo with his father taken following his release from hospital.
President Pedro Pablo Kuczynski granted a pardon last week.
The conservative Popular Force (FP) party, led by Alberto Fujimori's daughter, Keiko, controls Congress and had tried to impeach President Kuczynski over a corruption scandal.
However, her brother Kenji split the FP vote, allowing the president to stay in power and prompting the accusation that Mr Fujimori's release had been promised in exchange. Mr Kuczynski denies the claim.
As Mr Fujimori left hospital on Thursday, a relative of a student who went missing during the Fujimori administration described the pardon as "illegal" and said it did not expunge him of his responsibility for "deaths and corruption during the 1990s".
Mr Fujimori's critics consider him a corrupt dictator but to his supporters, he was the president who saved Peru from the twin evils of terrorism and economic collapse.