Colombia peace: Former Farc rebels build hotel to recreate guerrilla life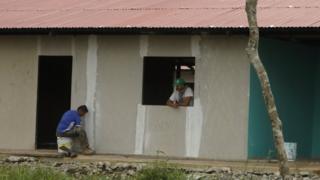 You will be sleeping deep in Colombian jungle, walking along paths that wind through what was once a no-go area and eating basic food cooked in a makeshift oven.
If that sounds appealing, maybe a stay at the Farc hotel is for you?
If you want to experience life as it was lived by the members of the largest left-wing guerrilla force in the Western Hemisphere - minus the guns and the battles with the security forces - you will soon be able to.
Watch and read more:
Former members of the Revolutionary Armed Forces of Colombia (Farc) are building a hotel for those wanting to get a taste of guerrilla life in an area that once was one of their strongholds.
Demobilisation and then what?
The rebel group signed a peace deal with the government in November 2016 under which most of its fighters have demobilised.
Under the agreement, every demobilised Farc rebel receives 620,000 Colombian pesos ($215; £160) a month for two years to help them make the transition into civilian life.
Many former rebels have used the money to set up co-operatives in the areas they used to control. Cooperativa Gran Paz (Great Peace Co-operative) is one of them and is behind the plans for the Farc hotel.
Einer López, a former Farc unit commander, is enthusiastic about the project. "We've done it with our own effort, using the basic pay we receive," he says.
The result is a one-storey building they have called Casa Verde (Green House) in reference to both its green walls and the name of the former Farc headquarters.
It is located near the hamlet of La Guajira, in eastern Meta province, a former stronghold of the Farc where dozens of ex-rebels are currently based in a training and re-integration camp set up under the terms of the peace agreement.
The ex-rebels hope that once finished the hotel will provide their main source of income, supplemented by what they can make by growing of bananas, avocadoes and other fruit and vegetables on land they have rented.
Back to basics
Mr López says the attraction of the hotel will be to make the experience as realistic as possible.
"We will build basic shacks, like the ones we used to live in, with a plastic sheet, some palm leaves and a mosquito net," he says.
Although guests who value comfort over full immersion in the rebel experience can choose to stay in rooms in the main Casa Verde building.
The hotel will also have a restaurant serving dishes which were commonly cooked by the rebels such as the wheat-based fried tortilla cancharina fariana and the carbohydrate-heavy guerrilla rice, which is stewed with fried pasta.
Mr López is convinced that the hotel will prove a hit with tourists even though his business plan does not extend very far beyond the basics so far.
The former rebels in this training and re-integration camp, one of 26 around set up around the country to help ease their transition into civilian society, could do with a boost.
About half of those who arrived here a year ago have since left the camp. "Everyone arrived here with a lot of expectation but it faded with time," explains Mr López.
"Some went back to their families, others went looking for work and we don't really know where the rest went."
Dissident danger
Since the Farc signed the peace deal, dissident groups have been springing up and Mr López says he cannot rule out that some of those who left may have joined one of those groups.
"You can really only control people while they are here, but after they leave it's hard to know what they will do," the former commander says.
"We only know how to work and how to make war," he says of his fellow former rebels.
That is why the success of projects like the Farc hotel is key for the former rebels' reintegration. "We can work night and day, but if we don't have a place to work, what are we supposed to do?" he asks.
For now, he and his fellow former comrades-at-arms have placed their bets on the Hotel Casa Verde.
Their hope, and that of many Colombians, is that it will indeed provide them with lots of work.