Colombia recalls peace negotiators after ELN attacks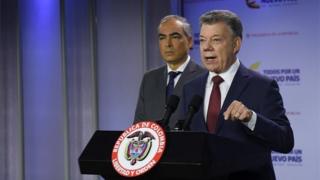 Colombian President Juan Manual Santos has recalled the head of his negotiating team from peace talks with the National Liberation Army (ELN).
A fresh round of peace negotiations was due to start on Wednesday in the Ecuadorean capital, Quito.
But after the rebels carried out attacks on an oil pipeline and a navy base, Mr Santos said the talks should be halted.
The attacks came hours after a temporary ceasefire expired.
"The government was always willing to extend the ceasefire. Inexplicably, the ELN refused," President Santos said in a televised address.
"Faced with this situation, I have spoken to the head of the [Colombian] government delegation in Quito, Gustavo Bell, and told him to return immediately so we can evaluate the future of the process," President Santos said.
'New ceasefire'
Later on Wednesday, the Marxist rebels urged Mr Santos to reopen the talks.
The ELN chief negotiator, Pablo Beltrán, read a statement, which said both sides should seize the opportunity to find a political solution.
"We should not change the course of the negotiations," he said.
"We maintain our determination, previously expressed, to agree a new bilateral ceasefire."
The ELN first announced its intention to start formal peace talks in March 2016 but they did not start until February 2017.
The talks have suffered from a number of setbacks since, but in September the two sides agreed on a temporary ceasefire, the first in more than five decades of armed conflict.
That ceasefire expired on Tuesday and hours later the Marxist guerrillas attacked the Caño Limón oil pipeline and threw grenades at a naval base.
Who are the ELN rebels?
The guerrilla group was founded in 1964 to fight against Colombia's unequal distribution of land and riches, inspired by the Cuban revolution of 1959
Over the decades, the group has attacked large landholders and multinational companies, and repeatedly blown up oil pipelines
To finance itself it has resorted to extortion, kidnappings and drug trafficking
It has been strongest in rural areas
Mr Santos was awarded the Nobel Peace Prize in 2016 for his efforts to reach peace with Colombian's largest rebel group, the Revolutionary Armed Forces of Colombia (Farc).
He has spoken of his hope to also achieve a peace deal with the ELN before he leaves office later this year, but government negotiators have warned that the diffuse command structure of the ELN makes it harder to negotiate with than the Farc.
On Wednesday, he said that the armed forces would "react forcefully to the ELN aggression".