Fujimori: New rallies against Peru ex-president's pardon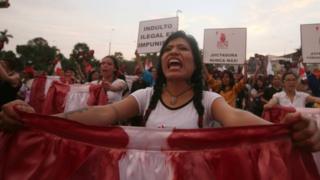 New rallies have been held across Peru against the decision to pardon former President Alberto Fujimori.
In the capital Lima, students, trade unionists and human rights activists marched amid a heavy police presence.
The protesters were demanding not only the quashing of the pardon but also the resignation of President Pablo Kuczynski, who granted it.
Fujimori, who was serving 25 years for human rights abuses and corruption, was pardoned on Christmas Eve.
This is the fourth time thousands of Peruvians marched to show their contempt for what they said was political collusion at the top.
Mr Kuczynski pardoned Fujimori, 79, just three days after a group of lawmakers - led by Mr Fujimori's son Keiji - helped the president avoid an impeachment process.
The threat of impeachment stemmed from accusations the president had been receiving money from Brazilian firm Odebrecht in exchange for contracts, a claim he denies.
Mr Kuczynski also denies striking a deal with the Fujimoris.
What was Fujimori convicted of?
Fujimori is a deeply divisive figure in Peru, respected by some and reviled by others for his government's crackdown on two insurgencies during his tenure from 1990-2000.
An estimated 69,000 people died in the conflict between left-wing insurgents and Fujimori's authoritarian government.
In 2007, he was sentenced to six years in jail for bribery and abuse of power.
Two years later he was sentenced to another 25 years in prison for human rights abuses committed during his time in office.
He was convicted of authorising killings carried out by death squads.
Fujimori, who has low blood pressure and an irregular heartbeat, had been moved from jail to hospital several days before he was pardoned.