Argentina missing sub: Congress commission to investigate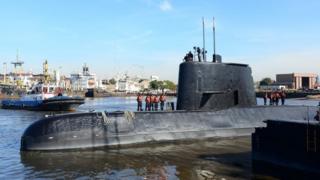 Congress in Argentina has created a commission to investigate the disappearance of a navy submarine and its 44 crew in the Atlantic Ocean.
The ARA San Juan went missing on 15 November after reporting an electrical problem.
No trace of the missing submarine has been found despite an intensive search.
The commission will investigate the causes and circumstances of the vessel's disappearance as well as the ongoing search and rescue operation.
Relatives of the missing crew had asked for the commission to be created.
It will be made up of six members of the Chamber of Deputies and six senators from both opposition and government parties.
The commission will nominate a team of retired navy officials to advise it.
All of the commission's reports will be made public and the relatives of the missing crew will be allowed to sit in on its sessions.
The commission's aim is to establish what caused the submarine to disappear and to assess its condition before it sailed as well as analysing how the navy and the ministry of defence have conducted the search.
Relatives of the missing crew members have criticised the government's handling of the search, accusing officials of withholding key information.
The head of the Argentine navy was sacked last month following the loss of the submarine and its crew.
The search for the submarine is still ongoing. The Argentine navy said one of its boats would join the Russian ship Yantar and another Argentine navy vessel in the search on Wednesday.
The three ships are focussing their search on the area where a loud noise was recorded in the hours following the disappearance, possible evidence that the submarine imploded.