Venezuela helicopter pilot Oscar Pérez killed in raid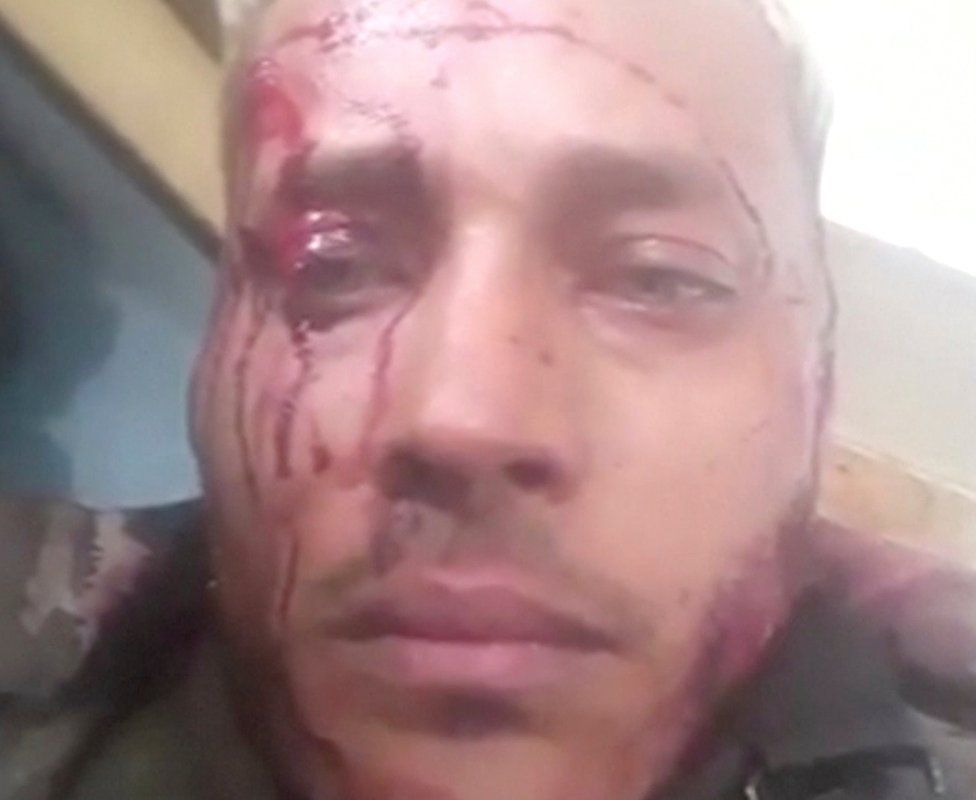 Renegade helicopter pilot Oscar Pérez was killed in a nine-hour long siege near the capital, Caracas, on Monday, the Venezuelan government has confirmed.
The pilot was labelled a "terrorist" by the government after he threw grenades at government buildings from a helicopter he stole on 27 June.
He had been on the run since then.
Police tracked him down to a house where he was hiding along with members of the anti-government cell he founded.
Oscar Pérez had been a member of the forensic police (known as the CICPC by its initials in Spanish) for 15 years before he hit the headlines.
He flew a CICPC helicopter over Caracas dropping grenades on the Supreme Court and firing shots at the Ministry of the Interior.
No-one was injured in the attack. The helicopter was later found abandoned on the outskirts of Caracas, but Mr Pérez had vanished.
While he managed to elude the security forces for almost seven months, he made at least one appearance at an opposition rally where people cheered him and took selfies with him.
After the helicopter attack, Mr Pérez also carried out a raid on a military police post in Los Teques, south-west of Caracas, on 18 December.
He posted footage of himself and masked members of his group overpowering the guards, gagging and tying them up and making off with 26 rifles.
Before launching his helicopter attack, Oscar Pérez had recorded a video message in which he appeared in front of a group of masked and armed men.
The video emerged at the height of anti-government street protests and he said he was fighting against President Nicolás Maduro's "tyranny" and his "narco-dictatorship."
In the video message, he called on the military, the police and civilians to rise up against the government.
"Together, let's retake our beloved Venezuela," Mr Pérez urged. He said his aim was to "re-establish the constitutional order in Venezuela" and "to return the power to the people".
In the last of his videos uploaded to the photo sharing site Instagram as the siege was under way, he urged Venezuelans "not to lose hope" and to continue fighting for democracy in Venezuela.
The security forces surrounded the house at 04:00 local time (09:00GMT) on Monday.
At its height, 150 police were involved in the operation, officials said.
During the siege, Mr Pérez posted a series of videos on social media. In the recordings, he can be heard saying that he had offered to turn himself in but that he believed authorities were initially trying to kill him rather than negotiate his surrender.
"They're shooting at us with RPGs [rocket-propelled grenades]," he said. "There are civilians inside here. We said we'd turn ourselves in, but they don't want to let us turn ourselves in. They want to kill us," Mr Pérez added.
What was the outcome of the siege?
After hours without revealing what Oscar Pérez's fate was, Justice Minister Néstor Reverol gave a news conference on Tuesday.
In it he said that Mr Pérez was among seven "terrorists" killed in the siege.
He also said that two of his "accomplices" in the attack on the military police post were among those killed as well as a woman whose identity has not yet been revealed.
Two members of the security forces also died in the operation and six people have been detained.