Huge Brazil rubbish dump closes after six decades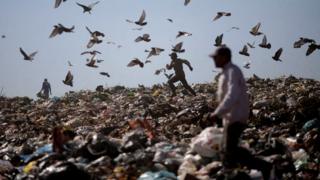 One of the biggest rubbish dumps in South America has closed in Brazil after almost 60 years.
The Estructural dump in the country's capital, Brasilia, had processed more than 1,000 tonnes of rubbish every day.
But its closure is likely to have an impact on a nearby favela as many of the residents rely on scavenging.
The regional governor, Rodrigo Rollemberg, says the rubbish scavengers will be paid to work in a recycling centre in cleaner conditions.
"We cannot live with this open wound in the midst of our nation's capital, a dump where human beings put their lives at risk seeking a livelihood in an undignified way," he said at the opening of the new landfill which is further out from the city centre.
Some scavengers have signed a deal to work at the new facility, but others are concerned they will make less money if they move.
"Rollemberg hasn't offered us a real alternative. We cannot survive on that pay," Valdir Dutra, who has scavenged for 16 years, told Reuters news agency.
There are fears the move to the new site will mean a longer and more costly daily journey for the workers, as well as lower pay.