Deadly violence over disputed Honduras election result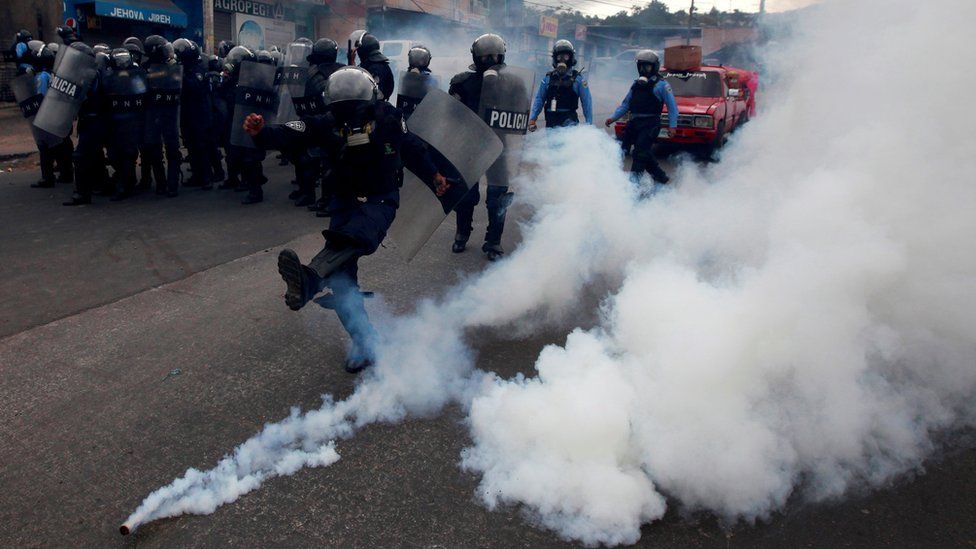 One protester has been killed in clashes in Honduras between riot police and demonstrators who dispute the result of November's presidential poll.
Police fired tear gas and cleared roadblocks made of burning tyres across the country. The death occurred in the northern town of Saba.
The protest was organised by supporters of the defeated opposition candidate.
On Saturday a local NGO in Saba, 210km (130 miles) north-east of the capital Tegucigalpa, said a 60-year-old man was killed and another person wounded when police opened fire on a roadblock, Reuters news agency reported.
This is because it is appointed by Congress, which is controlled by Mr Hernández's National Party.
Mr Nasralla initially established a lead as the votes were being counted, but this quickly diminished and he accused the authorities of manipulating the results.
Thousands of people took to the streets in rival demonstrations following the election.
Human rights group Amnesty International says 14 people died in the clashes, but police say only three have died.
President Hernández, 49, has been in power since 2013, and is the first president to run for a second term after the country's supreme court lifted a ban on re-election.