Ecuador leader calls Julian Assange an 'inherited problem'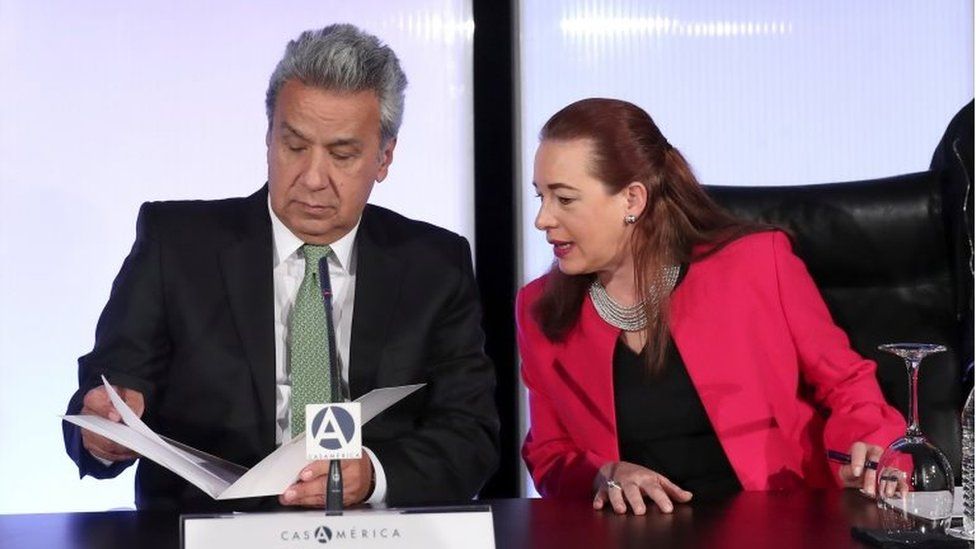 Ecuador's President Lenín Moreno has described Wikileaks founder Julian Assange as an "inherited problem" in a television interview.
Mr Assange has been living inside the Ecuadorean embassy in London since June 2012, when he claimed political asylum.
He had been wanted on assault claims in Sweden, which have been dropped, but says he fears extradition to the US.
The UK recently refused to recognise Mr Assange as a diplomatic agent, which would have provided him with immunity.
President Moreno said Mr Assange had created "more than a nuisance" for his government.
He has in the past warned the Wikileaks founder not to interfere in Ecuadorean politics or "that of nations that are our friends".
His warning followed Mr Assange's public support for the independence campaign in Catalonia.
The Wikileaks founder was also reprimanded for interfering in the 2016 US election after publishing hacked emails from the campaign team of Hillary Clinton.
Mr Assange was granted asylum by President Moreno's predecessor in office, Rafael Correa.
Mr Moreno's government has said that it will maintain Mr Assange's asylum. But it has also sought ways for him to leave the embassy without risking arrest for breaching his bail conditions and possible extradition to the US over the 2010 publication of classified information by Wikileaks.
While he has not been charged with any offence so far, Mr Assange fears that the US authorities have prepared a sealed indictment ordering his arrest.
Earlier this month, Ecuadorean Foreign Minister María Fernanda Espinosa asked the UK to recognise Mr Assange as a diplomatic agent with a view to him being provided with diplomatic immunity.
However, that move was rejected by the UK authorities who said that Mr Assange should leave the embassy and "face justice".
Speaking on Sunday, President Moreno said he was disappointed by the British government's response.
"This would have been a good result, unfortunately, things did not turn out as the foreign ministry planned and so the problem still exists."
The president said Ecuador would seek help from "important people" to solve the problem.