Guatemala leader Jimmy Morales dismisses expenses furore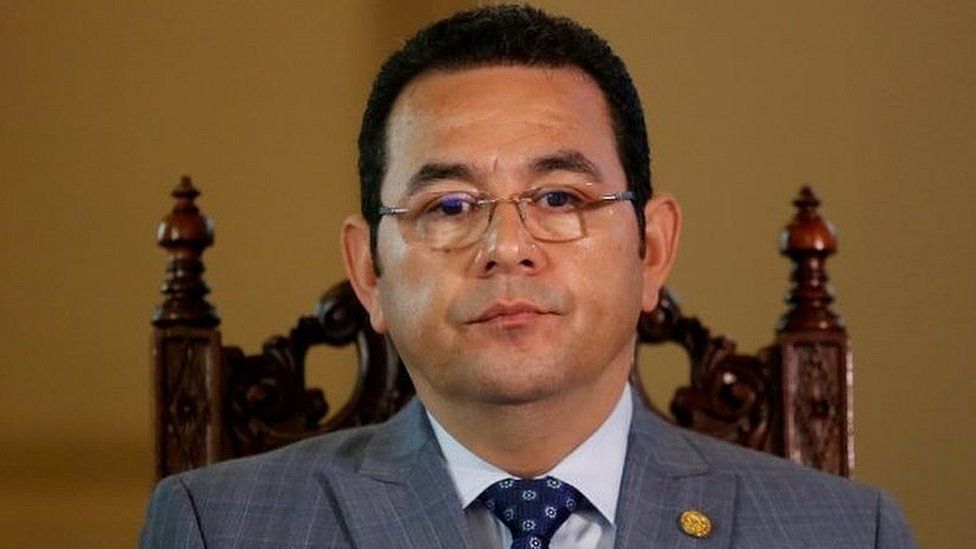 Guatemalan President Jimmy Morales has shrugged off criticism levelled against him for claiming $40,000 (£29,000) in expenses in 2017.
Mr Morales, who was a comedian before becoming president in 2016, claimed for luxury goods such as a pair of designer sunglasses and whisky.
Guatemala has one of the highest inequality rates in Latin America.
At $20,000 per month, Mr Morales receives one of the highest salaries of any president in the region.
He campaigned on a promise to root out corruption using the campaign slogan "Neither corrupt, nor a thief".
Breath mints and running socks
The president reacted angrily when he was questioned about his expenses during a news conference on Monday.
Asked why he had not paid for a pair of sunglasses by designer Carolina Herrera worth almost $3,000 himself, he said: "Because I don't have to pay for them out of my salary. (...) I was handed that pair of glasses, do you think I go asking for those kind of purchases?"
Goods worth a total of $40,000 were paid for by the presidential office of administrative affairs in 2017.
In a statement, the office said that part of its duties was to offer administrative and logistical support to the president and his family.
But details of the cost of the purchases made by the office have caused outrage in Guatemala, which has some of the worst poverty, malnutrition and maternal and child mortality rates in the region.
Among them are vitamins, bottles of rum, shampoo and sports items such as running socks, a golf cap, T-shirts and shorts.
Presidential spokesman Heinz Heimann defended the purchase of a tennis outfit for the president saying it was "for an official activity with the US ambassador".
"The president needed that gear to attend that invitation and it was last minute," Mr Heimann said.
The office also paid for a bottle of whisky worth more than $400 and paid out more than $4,000 for dry cleaning, according to an investigation by newspaper Nuevo Diario.
Anti-corruption group Justicia Ya (Justice Now) called the expenses "unjustifiable". "Jimmy Morales even bought mints with public money," the group said.
An investigation is under way to determine if the purchases were legal.