Chilean poet and physicist Nicanor Parra dies at 103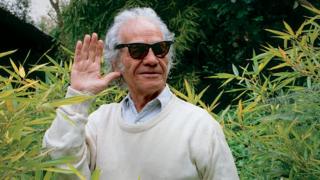 The Chilean poet Nicanor Parra has died aged 103 at his home in Las Cruces, his family has confirmed.
Parra, who described himself as an "anti-poet", shunned traditional poetic techniques and styles.
His poems use direct rather than fanciful language and often have a dark sense of humour
In 2011 he was awarded the Premio Cervantes, the most prestigious literary award in the Spanish-speaking world.
He once urged poets to "come down from Olympus" and deal with the real world.
He also suggested that young poets should free themselves from conventions.
Young Poets, by Nicanor Parra (translated by Miller Williams)
Write as you will
In whatever style you like
Too much blood has run under the bridge
To go on believing
That only one road is right.
Parra wrote his most renowned book, "Poems and Antipoems", while studying cosmology in Oxford between 1949-51.
A mathematician and physicist as well as a poet, he taught theoretical physics at the University of Chile for almost four decades.
Outgoing Chilean President Michelle Bachelet wrote on Twitter that "Chile had lost one of the greatest authors in Chilean literary history".
President-elect Sebastián Piñera also recognised the contribution of Parra to Chilean literature and asked for a minute's silence at an event where he was naming his cabinet.
Parra was proposed four times for the Nobel Prize in Literature but never won it.
He came from an artistic family. His sister, Violeta Parra, was one of Chile's most renowned singer-songwriters and his brother, Roberto, also dedicated himself to writing and performing songs based on folklore.