Argentina sub: Antarctic tribute to lost San Juan crew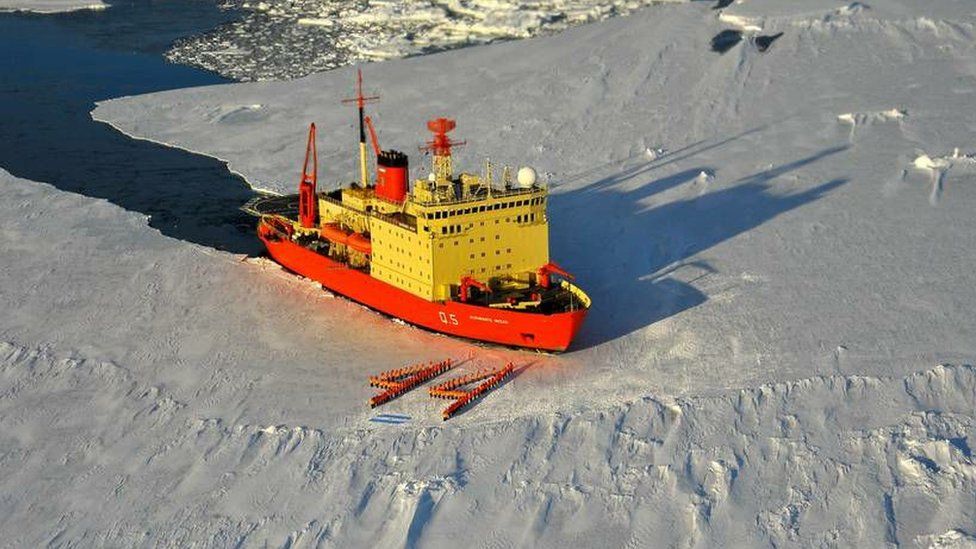 The crew of an Argentine icebreaker have paid a moving tribute to their comrades lost at sea in a submarine.
They formed the number 44 on the ice as they headed into the Antarctic while performing a traditional military salute next to their ship, the ARA Almirante Irízar.
Forty-four submariners on the ARA San Juan were lost in the waters of the South Atlantic on 15 November.
The photo was taken from one of the helicopters that accompanied the ship.
It was then published on the Argentine navy's Twitter account.
The icebreaker arrived in Antarctica on Friday. Argentina has 13 permanent and transitory bases on the continent.
The ARA Almirante Irízar itself has had a troubled past. A fire partially destroyed it in 2007 and this is its first mission for more than 10 years.
Members of the crew held a ceremony at the Belgrano II, Argentina's southernmost base, located 1,300km (800 miles) from the South Pole.
The loss of the ARA San Juan has shaken the Argentine Navy deeply. No trace of it has been found more than three months after it went missing.
Two members of the crew, who left the sub in the port of Ushuaia just days before the accident, gave evidence before a judge investigating its disappearance on Monday.
Earlier this week, police searched four buildings belonging to the navy, including its Submarine Force Command, as part of the investigation.
The judge said the aim of the search was to find documents clarifying its state of repair.
Five ships are still searching for the ARA San Juan, among them the Russian spy ship Yantar.
Another ship, the ARA Robinson, is searching an area north of the location where the navy lost contact with the submarine. It had reported an electrical problem off the coast of Patagonia.
A noise consistent with an implosion was recorded by the Vienna-based Comprehensive Nuclear Test-Ban Treaty some six hours after the sub's last contact.
The search has centred around the area of the noise but the depth of the water has made it difficult.