Peru's Fujimori family feud deepens as Kenji expelled from opposition party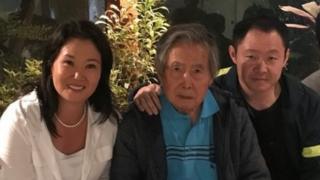 Peruvian Congressman Kenji Fujimori, the son of former President Alberto Fujimori, has been expelled from the opposition Fuerza Popular (Popular Force) party by his sister, Keiko.
Keiko Fujimori, who leads the party, and Kenji clashed over an impeachment vote against current President Pedro Pablo Kuczynski.
Kenji Fujimori broke party ranks to vote against impeaching the president.
His vote was key to Mr Kuczynski surviving the impeachment move.
Backroom deal?
Days after Kenji Fujimori voted in his favour, Mr Kuczynski granted a pardon to Alberto Fujimori, something he had previously said he would not do.
This led to speculation in the Peruvian media that Mr Kuczynski and Kenji Fujimori had struck a deal, trading the pardon for Kenji Fujimori's vote.
President Kuczynski has vehemently denied striking a deal and says he pardoned the former leader on medical grounds.
At the time of the pardon, Alberto Fujimori had been taken to hospital from prison, where he was serving a 25-year-sentence for human rights abuses.
Since his pardon, the 79-year-old has been released from hospital.
The pardon of the former president has divided Peruvians, with thousands taking to the streets in protest while others praised him for defeating Maoist rebels during his time in office from 1990 to 2000.
The minister of culture and the defence minister resigned over the pardon.
But most acrimonious has been the split within the Fujimori family itself, with Kenji making his father's release his priority while Keiko pursued her own political ambitions, unsuccessfully running for president in 2016.
Kenji Fujimori has been openly defiant even after his expulsion, publishing the party's decision on his Twitter account, adding the hashtag #Let'sDefendDemocracy and #FreedomWillDefeatFear.