Chile's first female war pilot Margot Duhalde dies at 97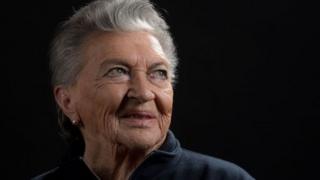 Chile's first female war pilot, Margot Duhalde, has died at the age of 97.
She started flying when she was 16 years old, gaining her pilot's licence two years later, just before the outbreak of World War Two.
Mrs Duhalde travelled to Europe to volunteer for the Free French Forces but ended up enlisting with the British.
She spent the war transporting planes into combat zones in continental Europe.
Later she became Chile's first female air traffic controller.
A government statement said: "We are grateful for the huge contribution she made to Chilean aviation and recognise the courage she had to fulfil her life's dream, breaking stereotypes and showing the way to other women."
Last year Mrs Duhalde told a Chilean TV station "the men were convinced they were the only ones who could do things".
"They always looked down on us women, it is only recently that they are beginning to realise we are equal and actually better than them."
Margot Duhalde got her flying licence in 1938 but there were few opportunities for a woman pilot in Chile.
When war broke out a year later, she went to the French consulate in Santiago to volunteer for the Free French Forces in London because she had family connections with France.
Not yet legally an adult, she lied to her parents and told them she was going to Canada as an instructor.
She ended up in the UK with 13 other volunteers and presented herself at the headquarters of the Free French Forces.
"The truth is that the French.. didn't know what to do with me. They mixed up my name with that of a man, Marcel, in other words they thought I was a man."
She left the French after they assigned her to look after wounded pilots.
Despite speaking no English, she got a job with the British Air Transport Auxiliary (ATA), which flew aircraft into combat zones.
"The work was very difficult," she said. "We had to fly in terrible conditions with a minimum of visibility."
"It was very dangerous, and we had no contact with the ground because the Germans were listening."
She returned to Chile in 1947 where she lived the rest of her life, marrying three times and working as a commercial pilot, instructor and finally as an air traffic controller, retiring at the age of 81.
In 1946 Margot Duhalde was made a Knight of France's Legion of Honour, later being given the honorary rank of colonel by the Chilean air force.