Road collapses in central Brasilia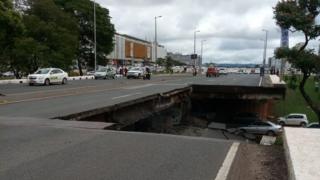 A busy overpass has collapsed in the centre of Brazil's capital, Brasilia, with images showing two lanes of the Eixão Sul having fallen on to the ground below.
Rescuers are at the scene, and there are no initial reports of injuries.
However, there are concerns for those who used the space underneath for trading and for parking.
City Governor Rodrigo Rollemberg told local press that maintenance work had not been carried out on this stretch.
"Brasilia is a city that is aging. It's a city made of concrete," Mr Rollemberg said, according to local news site Veja.
He said that since his government took over in 2015 it had carried out reinforcement work on some stretches of the city's main roads, but this was not one of them.
The collapse happened around 11:30 local time (13:30 GMT).
Globo TV said four cars were crushed underneath. One driver - who was not in his vehicle at the time - told the news network that it all happened in under five minutes.
The space is used by a steak restaurant, Churrascaria Floresta, and Globo TV said some of its tables had been buried.
The area is also sometimes used for parties.