Venezuela opposition weighs election run after talks end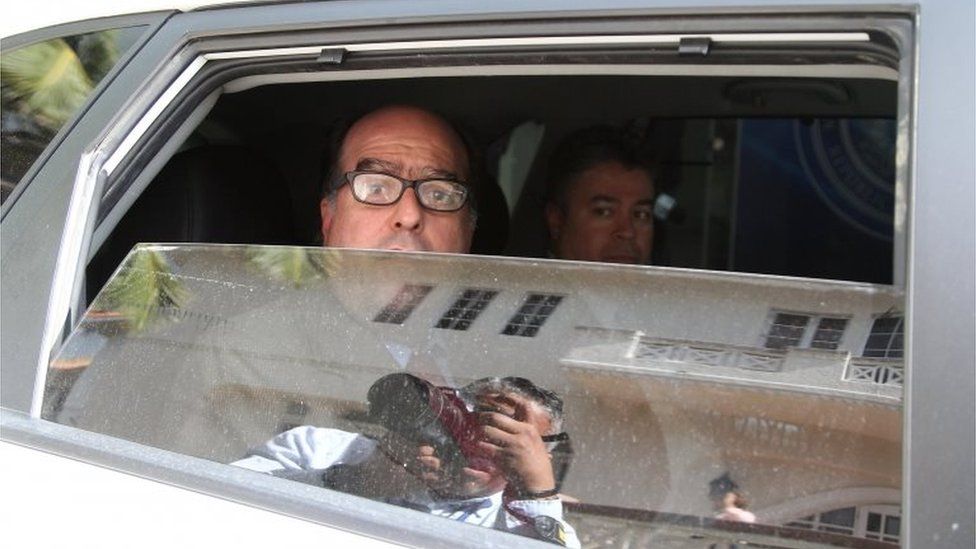 Venezuelan opposition parties are debating whether to take part in presidential polls set for 22 April.
Venezuela's electoral authorities announced the date on Wednesday just hours after talks between the government and the opposition broke up without agreement.
The elections were originally scheduled for December.
The opposition is split on whether to put up candidates as they say the whole process is flawed.
The government and the opposition have been at loggerheads about the elections for weeks after the National Constituent Assembly, a superbody which can overrule all other branches of government, announced they would be brought forward from December to "sometime before May".
The constituent assembly is exclusively made up of government supporters. The opposition accused it of changing the date to take advantage of divisions within the opposition coalition.
Compromise or unilateral move?
The date was one of the key items under discussion at talks between the two sides held in the Dominican Republic.
Sources said mediators suggested 22 April as a compromise between the government's preferred date of 18 March and the opposition's suggestion of 10 June.
But the talks broke down with both sides blaming each other for the impasse.
The government accused the opposition of never having had any intention of signing a deal, while the opposition said that the government refused to even look at a draft the opposition negotiator handed in on Wednesday.
After the talks collapsed, opposition negotiator Julio Borges warned President Nicolás Maduro not to "unilaterally" set a date for the election.
But hours later the electoral authorities, which the opposition says are controlled by the government, announced they would be held on 22 April.
Now the opposition parties will have to decide whether to take part at all, and if they do, whether to field a single unity candidate or if each party will choose their own.
Mr Borges said they would meet later on Thursday to thrash out a strategy.
Some factions say taking part will lend legitimacy to what they suspect will be a rigged election while others argue popular discontent over hyperinflation and shortages is such that the opposition has a chance of beating President Maduro's powerful party machine.
The decision is further complicated by the fact that some of the most charismatic opposition leaders are either barred from standing, in detention, or have left the country for fear of arrest.
Meanwhile, government supporters have created a new political movement called Somos Venezuela (We are Venezuela) which will back President Maduro for another term and are already campaigning.