Colombian students in miniskirt protest against sexism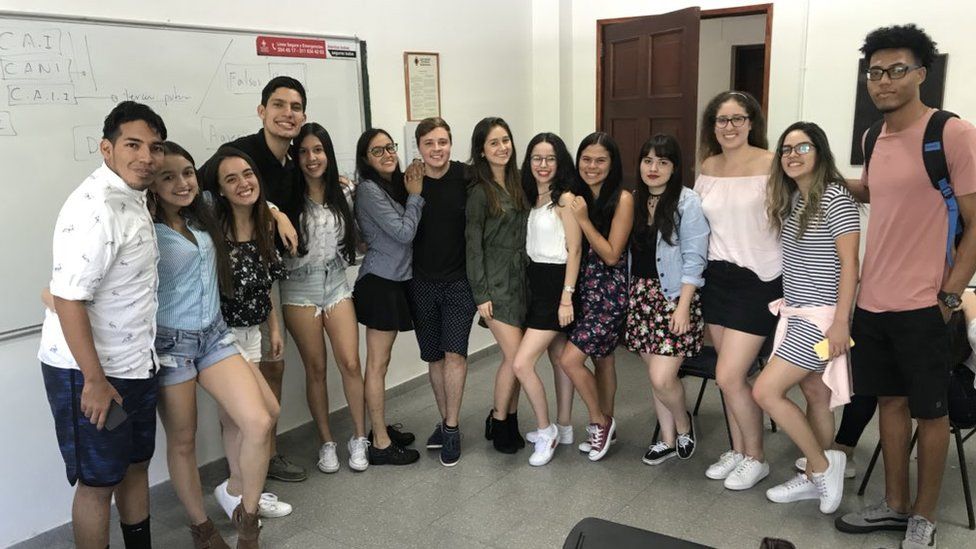 A Colombian university has faced a backlash after advising female students not to wear miniskirts to avoid "distracting classmates and teachers".
Branding the advice sexist, students mounted a campaign to encourage everyone, male and female, to wear short skirts on campus on Thursday.
Medellín's Pontifical Bolivarian University, known as UPB, had posted the advice on its website.
After an outcry, it said the tips were only meant as general suggestions.
"The UPB respects the right to express personalities, and has never imposed a dress code on students," said its statement, adding that the article had been mostly aimed at new students.
The original post, now deleted, appeared under a heading, "How should you dress to go to university?"
Some of the advice was presented as unisex, but there were plenty of tips directed at women.
Dress discreetly, it advised. "There is nothing more uncomfortable than distracting your classmates or teachers. For this reason, we suggest you don't wear low necklines, short skirts or tight-fitting clothes."
It was posted on 30 January and spread through students' social media accounts, prompting an online campaign under the hashtag #UPBEnFalda (meaning UPB in miniskirts).
According to El Tiempo newspaper, the university had issued the advice after a video circulated online, showing a male student aggressively raising a girl's skirt until she falls on the floor.
The university did not mention this in its original statement, but the following day it tweeted to say the post and the video had no connection. It said the matter was under investigation.
On Thursday, after a rallying cry online calling for people "not to be scared", students shared pictures of themselves and classmates in shorts and skirts around the university.
Local journalist Jenny Giraldo tweeted [in Spanish] to say the idea of having to police your clothes so others can control themselves is akin to advising people not to get raped.
Political sciences student Mariana Duque Díez was among those deliberately wearing a skirt to class on Thursday - although she said she often does, and so does at least one of her teachers.
"The frustrating thing is most students and teachers do not feel represented by these old-fashioned institutional positions," she told the BBC. "We feel much more plural."
You might also be interested in:
It is not the first time the university has been accused of sexism.
In 2015, it launched a summer-school class aimed at girls aged five to 10, teaching them good manners. The course was called "Girls' things".