Venezuelan leader Nicolás Maduro 'not welcome' in Peru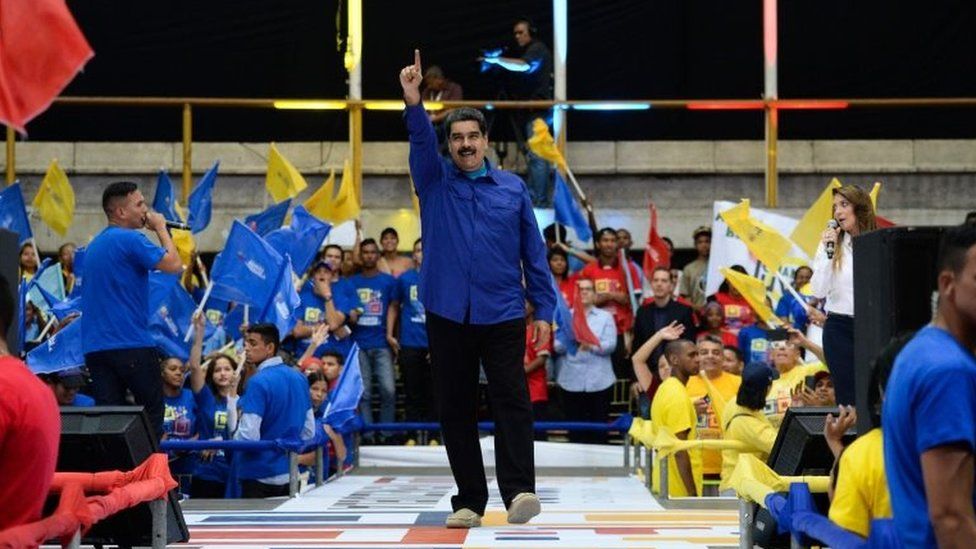 Peruvian President Pedro Pablo Kuczynski has said that Venezuela's leader Nicolás Maduro is "not welcome" at a regional summit to be held in the Peruvian capital, Lima, in April.
Just last week, Venezuelan officials had confirmed that President Maduro would attend the summit.
Mr Kuczynski cited "a rupture in the democratic order" in Venezuela as the reason for uninviting Mr Maduro.
Peru's leader also called on Venezuela to release all political prisoners.
Mr Kuczynski made the announcement after a meeting of the Lima Group, which is made up of more than a dozen Western Hemisphere countries concerned about the political and economic crisis in Venezuela.
On Wednesday, the group, which includes regional powers Argentina, Brazil, Canada and Mexico, criticised the decision by the Venezuelan government to hold a snap presidential election on 22 April without reaching an agreement with the opposition coalition.
In a joint statement, 14 countries from the Lima Group said the elections would not be free and fair as long as Venezuela's opposition was not allowed to fully participate.
Reduced field of candidates
A number of leading opposition politicians cannot run for office because they have either been barred, are under house arrest, or have left the country after being threatened with legal action.
They include Henrique Capriles, who twice ran for president, Leopoldo López, who led anti-government protests in 2014 and was jailed for inciting violence, a charge he denies, and the former mayor of Caracas, Antonio Ledezma.
The Lima group urged Venezuela to present a new electoral calendar.
The presidential polls were originally due to be held in December but were brought forward by the constituent assembly, a body made up exclusively of government supporters.
Colombia, a member of the Lima Group, has already said it would not recognise the result of the Venezuelan elections unless there were sufficient guarantees for a transparent electoral process.
While the Lima Group stopped short of saying it would not recognise the result, Peru's decision to uninvite President Maduro from the Summit of the Americas is likely to anger the Venezuelan government, especially as it had already confirmed his attendance.