Pope's investigator meets Chile sex abuse victims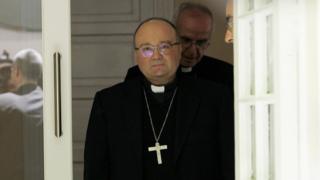 An investigation by a Vatican cleric into sexual abuse in Chile has been interrupted after he was taken ill and had to have surgery.
Archbishop Charles Scicluna of Malta was looking into accusations that a bishop appointed by Pope Francis in 2015 covered up crimes against children.
The archbishop's legal assistant will continue to hear victims' testimonies.
The conclusions of the investigation will be submitted to Pope Francis.
Unforeseen interruption
The pontiff sparked controversy by saying during a visit to Chile last month that there was no evidence against Juan Barros, whom he had appointed to the post of bishop of the southern Chilean city of Osorno in 2015.
Pope Francis apologised and asked Archbishop Scicluna, who is the Vatican's top abuse investigator, to look into the claims of a cover-up.
On Tuesday Archbishop Scicluna spoke to victims in Providencia, a wealthy Santiago neighbourhood where a priest who abused boys, Father Fernando Karadima, had his parish.
But the archbishop was then taken ill and had to have surgery on his gallbladder at a Santiago hospital.
A spokesman said he was "stable and fully aware" but that the remainder of the planned interviews with victims would be conducted by the Spanish priest, Monsignor Jordi Bertomeu.
Cover-up allegations
Bishop Barros has been accused of using his position in the Catholic Church to try to block an investigation into Karadima.
In 2011 Karadima - Bishop Barros's mentor - was found guilty by the Vatican of sexually abusing young boys and ordered to do penance.
A judge later dismissed a criminal case against him, saying the alleged crimes had been committed too many years before.
Critics in Chile say Pope Francis failed to respond to their request to review his appointment of Juan Barros as bishop of Osorno in southern Chile.
One of Karadima's victims who spoke to Archbishop Scicluna told reporters he was hopeful that the Chilean authorities would do more to tackle abuse.
"I hope that in the Chile of the future, there is security for children, there is no statute of limitations on sexual abuse, that Sename [Chile's child protection service] cares for children," James Hamilton said.
"It does not matter to me what the Catholic Church determines."
Mr Hamilton's evidence had previously helped convict Karadima in 2011.
Under Pope Francis, a Vatican committee has been set up to fight sexual abuse and help victims.