Mexico police officers sought over three missing Italians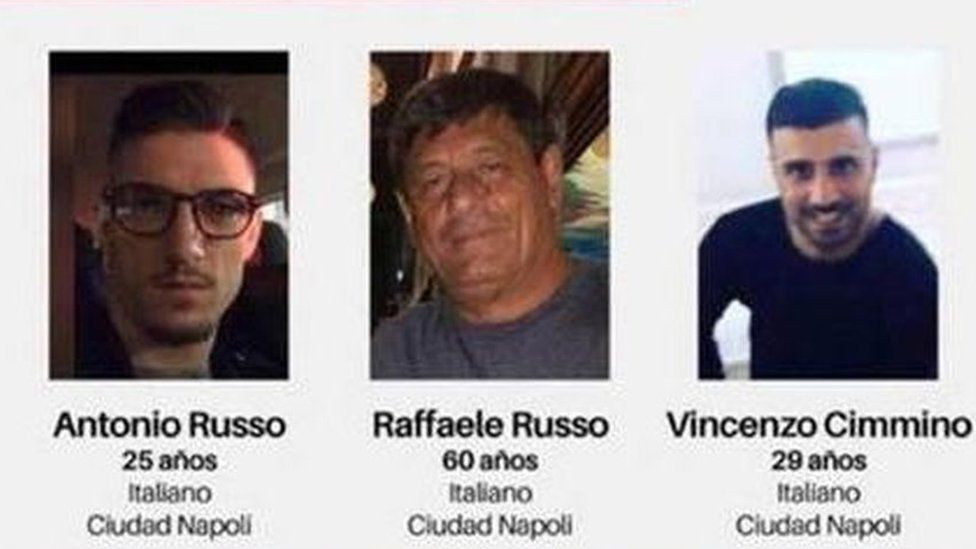 Mexican authorities are searching for three police officers in connection with the disappearance of three Italian men in the western state of Jalisco on 31 January.
One of the wanted officers is chief of security in Tecalitlán, the town where the three Italians were last seen.
Four police officers are already in custody in connection with the case.
The Jalisco state prosecutor said that the four had confessed to handing the Italians over to a local criminal gang.
The son of one of the disappeared told Italian radio that the men had been "sold to a gang for 43 euros" ($53; £38), but regional officials said they could not confirm that information.
Raffaele Russo, 60, his 25-year-old son Antonio, and his nephew, Vincenzo Cimmino, 29, were last seen in the small town of Tecalitlán on 31 January.
It is not entirely clear what they were doing in the agricultural town of Tecalitlán, an area controlled by the Jalisco New Generation cartel, one of Mexico's most powerful criminal gangs.
Jalisco State Prosecutor Raúl Sánchez said he had information showing the three were selling cheap generators and agricultural machinery which they passed off as high-quality branded goods.
But their relatives in their hometown of Naples denied that the three were doing anything illegal in Mexico.
The relatives were the first to alert the authorities that the men were missing, saying that they had received a phone call from one of them in which they mentioned being stopped by a police patrol.
Following their disappearance, the town's entire police force was sent for retraining, although some local media speculated that they were sent away so that they could not be intimidated by local cartel members into changing their story.
The four officers who have been detained, three men and a woman, have been charged with forced disappearance.
Mexican media have drawn parallels between this case and that of 43 Mexican students who disappeared from the town of Iguala in 2014.
The state prosecutor in that case said that the students were handed by corrupt local police to a criminal gang, who killed them and burned their bodies.
Local police, who are poorly trained and poorly paid, are often threatened or bribed by criminal gangs to turn a blind eye or even do their bidding.
For that reason, federal authorities often send federal police forces and even soldiers to the most violent areas.