Five Colombian soldiers killed in 'ELN rebel ambush'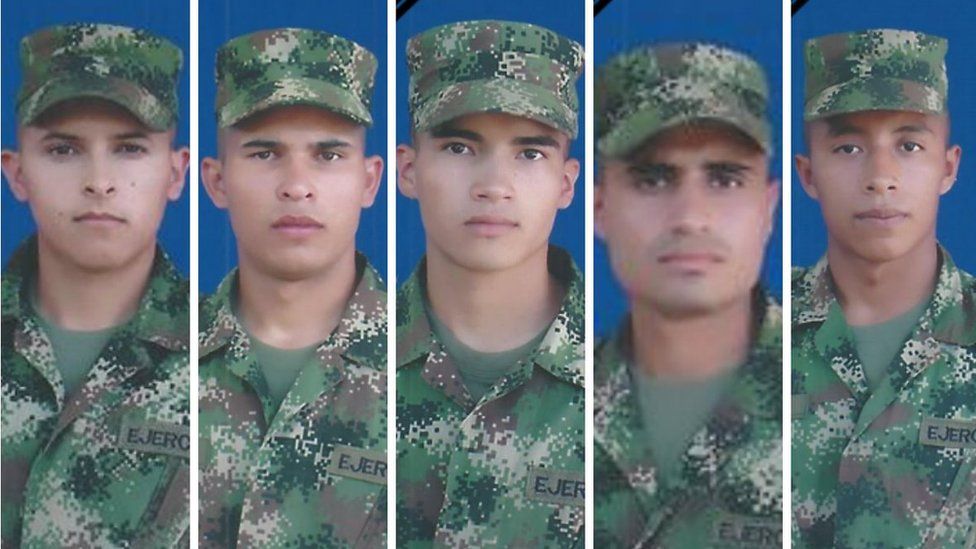 Five Colombian soldiers have been killed and 10 wounded in an ambush which the army has blamed on National Liberation Army (ELN) rebels.
A roadside bomb exploded as a convoy of soldiers was driving past in north-eastern Norte de Santander province.
The government was holding peace negotiations with the ELN rebels until January when the talks collapsed after a series of rebel attacks.
The armed conflict has been running since 1964.
The guerrilla group was founded in 1964 to fight against Colombia's unequal distribution of land and riches, inspired by the Cuban revolution of 1959
Over the decades, the group has attacked large landholders and multinational companies, and repeatedly blown up oil pipelines
To finance itself it has resorted to extortion, kidnappings and drug trafficking
It has been strongest in rural areas
Mr Santos was awarded the Nobel Peace Prize in 2016 for his efforts to reach peace with Colombian's largest rebel group, the Revolutionary Armed Forces of Colombia (Farc).
He has spoken of his hope to also achieve a peace deal with the ELN before he leaves office later this year, but after a spate of attacks by ELN rebels in January, he recalled the government negotiators from the peace talks.
Since then, there have been a series of attacks on oil pipelines and security personnel by ELN rebels, as well as operations by the security forces against the ELN.