Rio military deployment stirs controversy in Brazil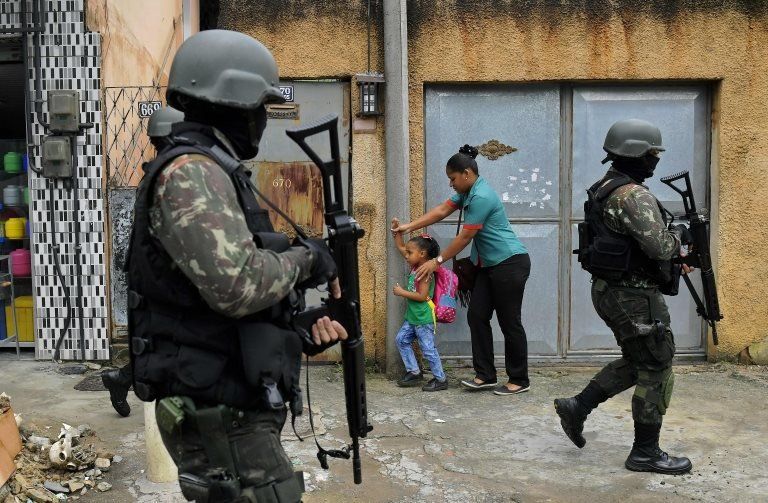 Twelve days after Brazil's President Michel Temer deployed the military to boost security in the state of Rio de Janeiro, criticism about the move continues.
Officials have so far provided little detail about what has been achieved while residents complain about harassment and intimidation.
The general in charge of the operation said Rio was a "test case" for military deployments in other parts of Brazil.
The move came after a surge of violence in the state during Rio's carnival.
President Temer issued a decree on 16 February putting the military in charge of security in Rio de Janeiro arguing that he was "taking this extreme measure because the circumstances demand it".
The presidential decree was approved by Brazil's National Congress only four days later by an overwhelming majority.
While soldiers have been deployed to the crime-ridden neighbourhoods of Rio before and were also used to patrol the streets during the 2016 Olympic Games, the decree puts the army in charge of Rio's police force for the first time since a new constitution came into force in 1988 following the end of military rule.
About 3,000 soldiers have been sent to patrol the streets of the city. But questions have been asked about the effect of the operation.
Walter Souza Braga Netto, the general in charge, said on Tuesday that Rio was a "test case" but added that it was not up to him whether the military deployment should be expanded to other parts of the country.
In his first news conference since assuming his new role, he provided little detail of how he planned to reverse the spike in violence that Rio has experienced in the past two years, saying only that "the objective is what is in the presidential decree: recover the operational capacity of public security organs and lower crime rates".
Brazilian media has been critical of some of the measures taken by the soldiers, such as photographing residents and searching their belongings.
"It seems a case of discrimination, which ignores the presumption of innocence," columnist Vinicius Torres Freire wrote in Folha de S. Paulo.
Human rights activist Leonardo Sakamoto said that photographing and retaining people was a "bizarre" move targeting the poor.
All pictures subject to copyright.