Colombia Farc: Election candidate Timochenko taken to hospital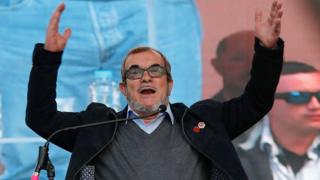 The presidential candidate of Colombia's demobilised Farc rebel group has been taken to hospital with heart problems, medics say.
Rodrigo Londoño - known as Timochenko - fell ill following his daily exercise routine. He has been campaigning across the country ahead of the 27 May poll.
The 59-year-old has been treated for heart disease by Cuban doctors for the last two years.
He played a key role in the peace deal reached with the government in 2016.
Last month, Farc suspended political campaigning, saying there were threats to its candidates.
Farc signed a peace deal with the government in 2016 and announced last year it was forming a political party.
Previously known as the Revolutionary Armed Forces of Colombia, it is campaigning for congressional and presidential elections under the name Revolutionary Alternative Force of the Common People, using the same acronym.
Under the terms of the peace deal, Farc is guaranteed five seats in each of the two chambers of parliament.
The parliamentary elections are scheduled for 11 March.
Timochenko became leader of the Farc in 2011.
Correspondents say his chances of becoming president are minimal as many Colombians are loath to see a former rebel representing them.
Many Colombians have criticised the peace process for allowing Farc members to run for office without having to serve prison time.
More than 260,000 people were killed in more than five decades of armed conflict between the Farc and other rebels, government forces and right-wing paramilitaries.