Spanish navy captain Javier Montojo Salazar dies in Antarctica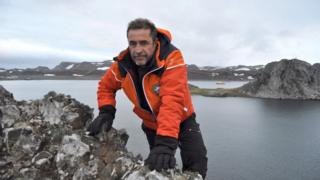 A Spanish naval captain has died after apparently falling overboard from an ocean research ship in Antarctica.
Javier Montojo Salazar was travelling on board the ship as a member of a scientific team.
It is not clear why he fell, the Spanish navy says. It happened near a Spanish research base on an island off the Antarctic Peninsula.
His body was discovered after a six-hour search. It is now being taken to the Argentine port of Ushuaia.
From there, it will be repatriated to Spain.
The frigate captain was on board the Hesperides when he disappeared not far from the Juan Carlos I Spanish base on Livingston Island.
Hesperides is used to conduct research into marine biodiversity and travels to the region regularly to provide supplies to Spanish bases there, reports say.