Oscars 2018: Latin America shines as del Toro wins big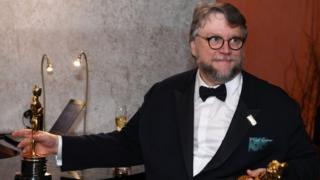 The 90th Academy Awards saw Latin American artists and films take home some of the most coveted Oscars.
Mexico's Guillermo del Toro won best director and his The Shape of Water took the top honour for best film.
Chile's A Fantastic Woman was named best foreign language film and its star Daniela Vega became the first openly transgender woman to present at the ceremony.
Coco, a film with a Mexican Day of the Dead theme, won best animated feature.
How many awards did Latin America bag?
Well, that depends on your definition of a Latin American film. There is no doubt that Mexico did extremely well by getting the two most coveted awards of the night. Guillermo del Toro, the 53-year-old from Guadalajara, won both best director and best picture.
His film, The Shape of Water, also won best original score and best production design. But the score's composer is French musician Alexandre Desplat and the three men honoured for the film's production design and set decoration, Paul Denham Austerberry, Shane Vieau and Jeff Melvin, are all Canadian.
Coco, the best animated feature, definitely has a Mexican theme even if it was made by California-based Pixar Animation studios.
Not only is the animated feature set in Mexico, it deals with the annual celebration for which Mexico has arguably become most famous around the world, the Day of the Dead. Oh, and its co-director, Adrián Molina, is Mexican-American.
There is no doubt about the Latin American credentials of the best foreign language film, A Fantastic Woman. The Chilean film's director, Sebastián Leilo, was born in neighbouring Argentina but the drama is both set in Chile and its main star is Chilean transgender singer Daniela Vega.
Is the Latin American influence a new trend?
Hardly. Mexican directors have won four out of the five best director Oscars since 2014.
In 2014, Mexico City native Alfonso Cuarón became the first Latino to win the award for Gravity, his film about two astronauts stranded in space.
In 2015, another Mexico City native, Alejandro González Iñárritu, followed suit with Birdman. Not content with just the one best director statuette, he added another the following year for The Revenant.
The spell was briefly broken by French-American director Damien Chazelle, who won with La La Land last year, but Mexicans are certainly hoping for more top awards in years to come. And with three directors who are well established in the cinema world and arguably at their height of their careers (Cuarón, González Iñárritu and del Toro are all in their fifties), the chances are looking good.
What about Latin American actors?
Touchy subject this one. No Latino actors were even nominated for any Oscars this year.
The last time a Latin American actor was nominated was in 2012. That was Demián Bichir for A Better Life.
The first and only Latino to ever win the Oscar for best actor was Puerto Rican actor José Ferrer for Cyrano de Bergerac. Don't remember that? That may be because it was all the way back in 1951.
More recently, Benicio del Toro won best supporting actor for Traffic but that now dates back 17 years.
Women have fared little better. While Puerto Rican actress Rita Moreno stole the show at this year's award by presenting in the same dress she wore when she won best supporting actress in 1962, there has been a dearth of awards since.
That is, unless you count 2014 best supporting actress Lupita Nyong'o, who Mexicans proudly consider as one of their own thanks to her being born in Mexico City.
The lack of Latino representation in the film industry is an issue the National Hispanic Media Coalition has tried to raise awareness of in the run-up to the Oscars.
So overall a Latin American success?
Judging by the reaction on social media, where Guillermo del Toro's name trended, the 2018 did highlight the achievements of Latin American filmmakers, if not of actors.
One Latin American actor who came in for a quite a lot of teasing on social media was Mexican actor Gael García Bernal.
Bernal sang the opening lines of "Remember Me" from the film Coco, which won the Oscar for best original song, before Mexican singer Natalia Lafourcade and US singer Miguel took over.
And while some lauded his stab at singing, many on social media suggested he had better keep the day job of acting.