Argentina abortion: Referendum 'on the table', government says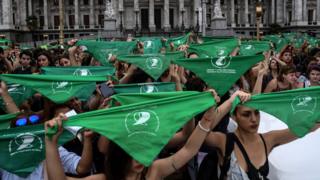 Argentina's centre-right government has, for the first time, said it would consider holding a referendum on legalising abortion.
It is "on the table", Cabinet Chief Marcos Peña said.
Meanwhile a bill put forward on Tuesday would allow women to terminate pregnancies during the first 14 weeks.
President Mauricio Macri said he was personally opposed to relaxing the country's abortion laws, but he would give his Congress allies a free vote.
Abortion is a controversial issue in the predominantly Catholic nation.
It is only allowed in cases of rape, when the mother's life is deemed to be at risk, or when there is a severe malformation of the foetus. Women seeking abortions must apply to a judge for permission, which critics say can unnecessarily delay the procedure.
More than 70 Argentine members of Congress put forward a bill during a ceremony attended by dozens of activists.
At the bill's presentation in Buenos Aires, opposition MP Araceli Ferreyra said reform of the Argentine abortion law was "a topic of equality and inequality".
In several Latin American countries, abortion is illegal in any circumstance.
In August 2017, Chile's constitutional court approved a bill to ease the country's total ban on abortions.
Abortions are illegal in Brazil, except in health emergencies or cases of rape or, since 2012, in cases of anencephaly, where the foetus's brain fails to grow.
Uruguay, which borders Argentina, permits abortions.
Several Roman Catholic countries, including Honduras, El Salvador, Nicaragua, Malta, The Vatican and Dominican Republic, have an abortion ban in all circumstances.
Ireland, a traditionally Roman Catholic country, will hold a referendum on whether to reform the country's near-total ban on abortion in May 2018.