Colombia's Farc: Choosing the ballot box over violence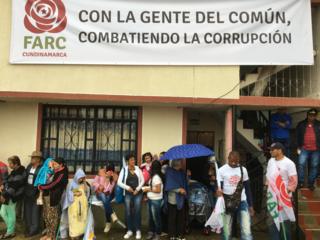 In the Colombian town of Fusagasugá, about two hours from the capital, Bogotá, Senate hopeful Julián Gallo Cubillos is on stage for the close of his campaign.
It is pouring down with rain but for a man used to living in the jungle, it is hardly a problem.
Better known by his nom de guerre, Carlos Antonio Lozada, he fought for three decades with the Revolutionary Armed Forces of Colombia, the left-wing rebel group better known as Farc.
Watch and read more:
He is telling the 400 people who have turned up in the town square why they should vote for him in Sunday's legislative elections. "For 53 years we've been fighting for changes in this country," he says.
"We weren't allowed to be a part of the political system so we had no choice but to take up arms. With the peace agreement, we left that behind."
Turning point for Colombia
This is certainly a scene that few people would have imagined unfolding here until recently.
A fighter-turned-aspiring-congressman has armed guards standing by and mounted police are protecting him like any other politician.
It is a measure of how much Colombia has changed.
The Farc started life in the 1960s as a Marxist-inspired rebel group demanding land reform.
The guerrillas soon became a key player in a conflict involving the government, right-wing paramilitaries and other armed groups, which left an estimated 220,000 dead and millions displaced over five decades.
The turning point was the peace agreement signed between the government of President Juan Manuel Santos and the Farc in 2016.
As part of the deal, the Farc were given 10 seats in Congress up until 2026, regardless of how many votes they received.
Same name, different game
After the Farc rebels disarmed last year, the group announced its new party. It kept the acronym Farc but changed what the letters stand for to the Common Alternative Revolutionary Force.
"We had to maintain our name because it's linked to our history of struggle and resistance," explains Mr Lozada.
"It wouldn't have been ethical to hide behind any other acronym."
But the new political party is having trouble convincing the general public of its new role.
"How are we going to pardon a group who has spilt so much blood and is now expecting us to put them in power?" asked Alejandro Castañeda, who was walking through Bogotá's main square, Plaza Bolívar.
Imperfect peace deal
Colombians are not against the idea of peace but they are divided about how to go about it.
And for many, it is hard to forget the crimes the Farc committed during more than five decades of armed conflict.
One of the biggest criticisms of the deal was allowing Farc members to run for office without having to serve prison time first.
"They get seats with no votes and they aren't facing justice,' says 24-year-old Nicolás Ordoñez Ruiz, who is part of Colombia's main opposition party, Democratic Centre. "It's an irresponsible message. It will create more violence in the future."
That, says conflict expert Jorge Restrepo, will be reflected on voting day. "People won't want to vote for them because they were not punished," he says.
"That lack of justice, that need for revengeful justice, has not been satisfied in Colombia."
Lack of support
Former Farc combatant Byron Yepes is talking to residents in the Ciudad Bolívar slum on the outskirts of Bogotá.
Mr Yepes takes the megaphone and starts talking. It feels a little overdone. There are no more than 30 people listening.
"A political class has governed the country for more than 200 years," he says.
"The role of the peace accord was to change that," he says, adding that everyone here is a victim of the long war.
The Farc's political skills need fine-tuning. That will take time.
"Most of the candidates are part of the traditional hierarchy of the Farc," says Mr Restrepo, adding that in the future, political activists who support the Farc but who are not seen as having blood on their hands will start to emerge.
"We will need a couple of generations for the Farc to make that change. They are there for the long term."
Moving on
On the other side of Bogotá, Javier Gutiérrez is waiting for a taxi to pick him up and take him to the doctors. He is getting a new prosthetic leg fitted.
In 2003, he lost his leg in the bombing of El Nogal social club in Bogotá. The attack, which the Farc has been blamed for, killed 36 and injured many more.
Watch: Farc rebels come face to face with victims
Mr Gutiérrez worked there as a chef. The force of the explosion threw him against a deep-fat fryer. He has had several operations on his other leg and struggles to walk.
He says he is apolitical but fails to understand how the country can move from more than 50 years of war to open politics just by signing a peace deal.
It is a subject he clearly finds very difficult to talk about but sums it all up by referencing a song by Colombian pop singer Shakira: Blind, Deaf and Dumb.
"Most of us behave like that with what's going on, especially the youth," he says. "But how can I forget what's happened when I have half a leg?"