Colombia calls ELN rebels back to peace talks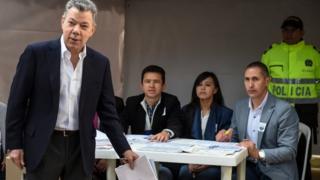 Colombian President Juan Manuel Santos has said peace talks with the rebel National Liberation Army (ELN) will resume after a six-week halt.
Mr Santos said his decision was inspired by the success of talks with the biggest rebel group, Farc.
The Farc signed a peace accord in 2016 and took part on Sunday in legislative elections as a new political party.
Mr Santos suspended talks with the ELN in Ecuador on 29 January after a series of deadly attacks on police stations.
The Colombian government blamed the left-wing rebels for the three attacks, which killed at least seven people and injured more than 40 in the north of the country.
The group has admitted carrying out one deadly attack but not the others.
Mr Santos has now instructed the government's chief negotiator, Gustavo Bell, to return to Quito, and resume talks towards a bilateral ceasefire. The main aim was "to save lives and achieve total peace in Colombia," said the president.
Results of Sunday's vote, however, show that many still disagree with the terms of the 2016 peace deal.
The Farc secured a mere 0.5% of the total number of votes in Sunday's election, which was won by conservative parties opposed to the accord, which took four years to complete.
Under the deal, the group will receive five seats in each of the two chambers of parliament despite its poor election showing.
"We've had the most peaceful and transparent elections in half a century," he said.
The Farc, already demobilised and unarmed, "changed the bullets for votes, violence for democracy," added Mr Santos. "That is why we had the peace process."
The ELN peace talks were launched a year ago.