Marielle Franco: Vivacious fighter shaped by the favela
By Julia Carneiro
BBC Brasil, Rio de Janeiro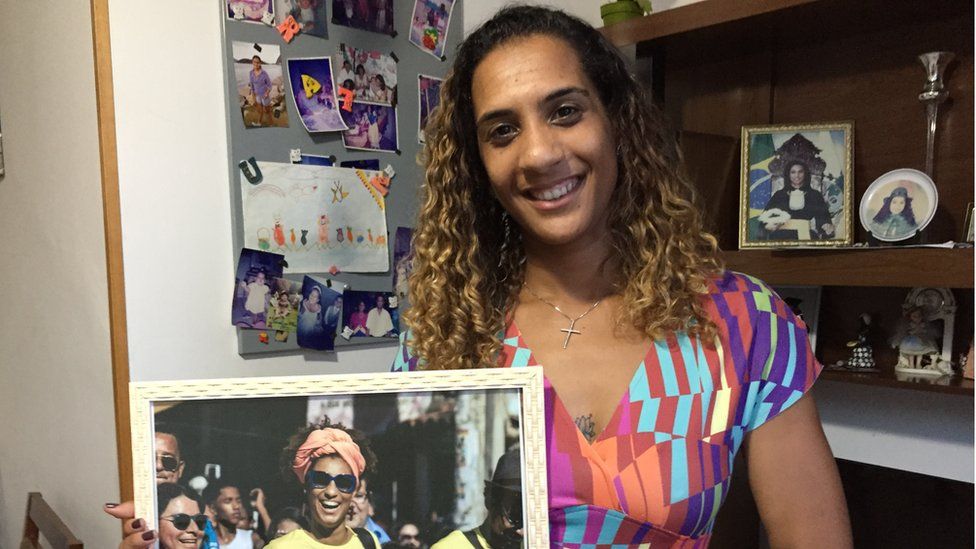 Marielle Franco's life had been on an up until she was shot dead in Rio de Janeiro on 14 March.
"She was doing everything she had set out to do," says her sister, Anielle Silva. Two years ago, Ms Franco was elected Rio city councillor, the very first time she had run for office.
The 38-year-old had ambitious plans for this year. The left-wing Party for Socialism and Liberty (PSOL) she was a member of had chosen her as its candidate for the post of deputy governor of Rio de Janeiro state in October's election.
"She was so excited, she seemed like a child," Ms Silva recalls. She is sitting in her parents' flat in northern Rio which is full of photos of her sister.
On 14 March, Ms Franco was being driven home from an event promoting black empowerment when a car pulled alongside hers and shots were fired from inside it.
She was hit four times in the head and her driver, Anderson Gomes, was also killed.
The crime has sent shockwaves through the country and beyond, with people gathering in Brazil and cities as far apart as New York, London and Stockholm to pay tribute to Ms Franco.
In Rio, crowds took to the streets in the city centre shouting "Marielle presente!" (Marielle is here!) and demanding justice be done.
Ms Franco has been embraced by the many different movements she fought for - black, feminist, LGBT and human rights.
Ms Franco, who often wore a bright hairband around her afro, was the only black woman among Rio's 51 councillors, even though half of Brazil's population are black or mixed race.
Described by friends and fellow politicians as a brave and vivacious fighter, she had grown up in Complexo da Maré.
The sprawling set of favelas is home to 140,000 people, two drug gangs and a paramilitary group, and has one of the lowest human development indexes (a composite statistic of life expectancy, education and per capita income indicators) in Rio.
Being raised in Maré had a big influence on the sisters, Ms Silva says. recalling how they had to cope with school being cancelled because of shoot-outs or walking past bodies lying on the streets.
Despite her humble origins, Ms Franco made it into university, getting a masters degree and becoming the councillor who won the fifth most votes in Rio in 2016.
Having been born and grown up in a favela, she was a powerful advocate for the rights of the people living in Rio's poor neighbourhoods.
"I think she was becoming a menace," her sister says.
"She may have come from the bottom but she was growing more and more influential. She defended minorities and spoke her mind fearlessly. They wanted to shut her up before she went further," her sister says of the motives that may have been behind her killing.
Police have said that hers was a targeted killing and the federal prosecutor's office told BBC Brasil that evidence suggests the crime was committed by corrupt police officers.
Ms Franco often denounced police violence and extrajudicial executions carried out by the security forces.
She was particularly critical of President Michel Temer's recent decision to deploy the army in Rio state to boost security.
The deployment, in response to a surge in crime around carnival, caused grave concerns among rights groups who fear residents could face harassment or worse.
Ms Franco had been chosen to oversee a commission monitoring the deployment of the military.
"How many more will have to die before this war ends?" she asked on Twitter a day before she was killed, referring to the fatal shooting of a young man after he left church in a favela.
At a march in Complexo da Maré on Sunday, protesters chanted "black lives matter" and warned that those who had "messed with" Ms Franco had stirred up a hornet's nest.
"She was a minority within Brazil's political institutions, but represented the majority of Brazilian people, many of whom are female, black and live in favelas," says fellow black politician Taliria Petrone.
"We need people like Marielle to have space in politics and to implement public policies that represent this diversity," Ms Petrone, who was elected councillor in the city of Niteroi in 2016, says.
But on social media there have also been those questioning why Ms Franco's death should have received so much coverage when so many others have gone unreported.
Her sister says people should not forget her murder was "political". "She was a leader who fought for minorities and against violence in Rio. She was elected. All I want is for her legacy to be respected," Ms Silva says.
She says her family has been moved by the widespread tributes. "This soothes us and shows us how big Marielle was," her sister says.
And in a country where many murders, especially those of black and disadvantaged people, go unsolved, Ms Silva is hoping for closure.
"I want to believe that they will solve the crime. I have to believe."