All Chile's 34 bishops offer resignation to Pope over sex abuse scandals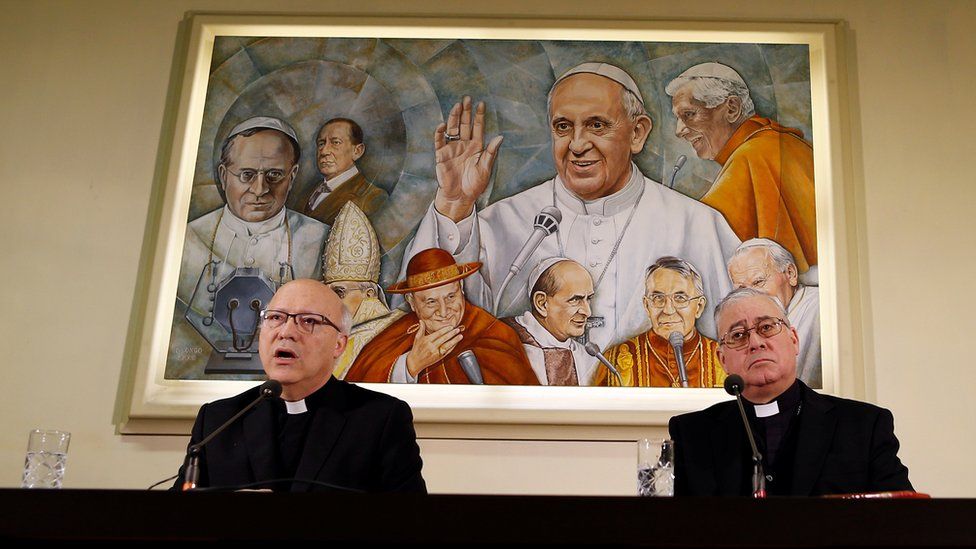 All of Chile's 34 Roman Catholic bishops have offered Pope Francis their resignations in the wake of a child sex scandal and cover-up.
They asked forgiveness from victims and the Church for their "grave errors and omissions".
It was not immediately clear whether the Pope had accepted the resignations.
He had been criticised in Chile for his decision to ordain a bishop who is accused of covering up sexual abuse committed by a priest.
He said in January that he felt "pain and shame" over the scandal, which has rocked the Catholic Church in Chile.
It is the first time that all the top churchmen in a country have offered to leave their posts like this.
What is the scandal about?
The upset centres on Bishop Juan Barros, who is accused of using his position in the Catholic Church to try to block an investigation into his mentor, Catholic priest Fernando Karadima.
Fr Karadima was an influential priest who was found guilty by the Vatican of sexually abusing young boys in the 1970s and 80s and sentenced to a lifetime of "penance and prayer".
Pope Francis appointed Bishop Barros three years ago despite the cover-up allegations. He is not accused of carrying out abuse himself.
The bishop has repeatedly offered his resignation to the Pope, but it has been rejected several times as he was believed to be innocent of the accusations. This time, it is thought his offer to quit will be accepted.
The Pope was widely criticised in January when he defended Bishop Barros during a visit to Chile, saying the allegations against him should be classed as "slander" until proven otherwise.
He told a Chilean journalist: "The day they bring me proof against Bishop Barros, then I will speak. There is not a single piece of proof against him. Everything is slander. Is this clear?"
Why did all the bishops offer to quit?
The bishops offered their resignation by letter after three days of crisis talks at the Vatican, during which the Pope handed them a 10-page document accusing Chile's Church hierarchy of negligence in sex abuse cases.
Some of the Vatican investigator's findings were included in the report, according to Chile's T13 television, which acquired a leaked copy.
In it, the Pope said he felt ashamed that people had been pressured not to fully investigate abuse allegations.
"We are all involved, myself in first place, and no one can be exempted by looking to shift the problem onto the backs of others," the Pope reportedly wrote.
In their letter, the bishops wrote that their individual futures were in the Pope's hands, and if he did not accept their resignations, they would "continue doing our pastoral work".
"In communion with [the Pope] we want to re-establish justice and contribute to repairing the damage caused," they wrote.
How have victims responded?
"This will change things forever," tweeted Juan Carlos Cruz, who was abused by Fr Karadima in the 1980s.
José Andrés Murillo, another victim, said Pope Francis should accept the mass resignation offer.
"They did not know how to protect the weakest, exposed them to abuses, and then prevented justice," he wrote on Twitter.
"That's why they all deserve to go."