Nicaragua unrest: Thousands join renewed anti-government rallies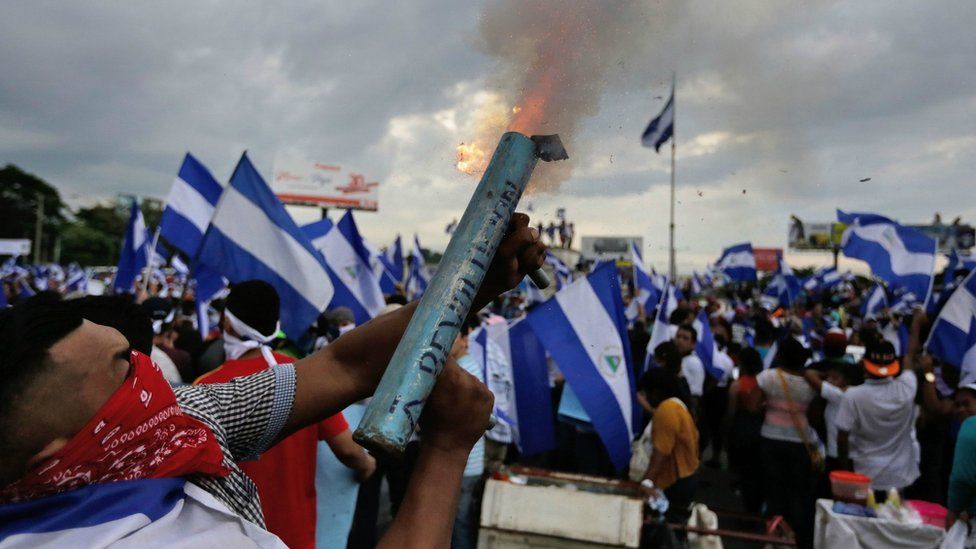 Thousands of protesters have marched in the Nicaraguan capital Managua and other cities to demand the resignation of President Daniel Ortega and his wife, Vice-President Rosario Murillo.
Demonstrators blocked main roads, waving placards and chanting slogans.
Weeks of anti-government protests have led to at least 76 people being killed in clashes with security forces.
The latest rallies took place after peace talks mediated by the Catholic Church broke down on Wednesday.
Four people were killed in clashes on Saturday, police and witnesses say.
"They want to take us off the streets at the point of bullets," said protest leader Francisca Ramírez, who led a rally in the north-west city of Leon.
Street protests erupted last month when President Ortega approved cuts to pensions and social security.
He later revoked his plans but the demonstrations turned into broader unrest against his government.
Mr Ortega says criminals and gang members have infiltrated protest rallies but opposition activists accuse him of repression.
President Ortega is a former left-wing Sandinista guerrilla who helped to overthrow the dictatorship of Anastasio Somoza in the 1970s.
However, his critics accuse him and his wife of also behaving like dictators.
Talks aimed at easing the crisis began earlier this month but have so far failed to resolve the deadlock.