Nicaragua protesters stage national strike as clashes persist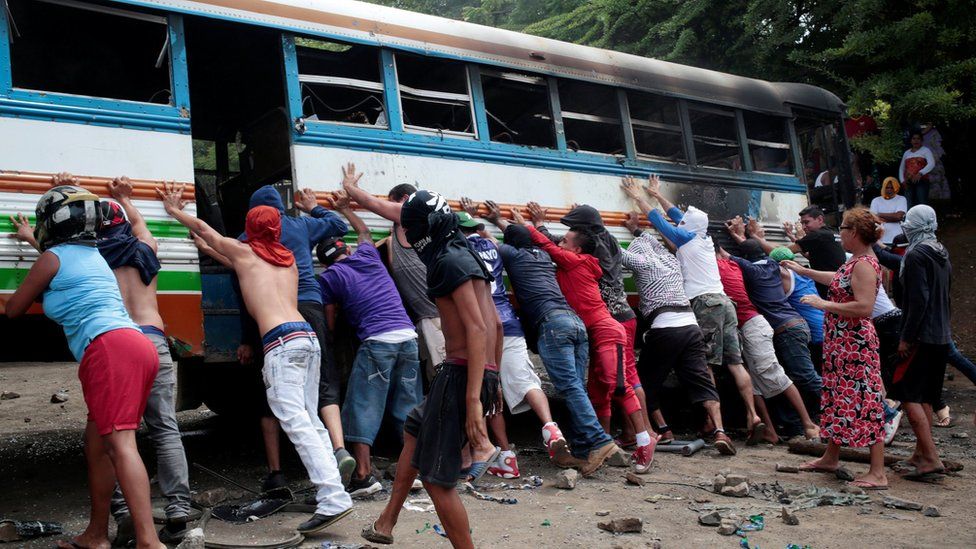 A 24-hour general strike has brought much of Nicaragua to a standstill, as anti-government campaigners demand the resignation of President Daniel Ortega.
Streets have been deserted and businesses closed in the capital, Managua, but violent protests have broken out in other cities.
Reports say at least three people died on Thursday, bringing the total killed in eight weeks of clashes to about 160.
Fresh talks aimed at ending the stand-off are due to take place on Friday.
The protests began on 19 April after the government imposed cuts to pension and social security programmes.
The cuts were later scrapped but the protests evolved into a rejection of the Ortega government and thousands of people have since taken to the streets.
In Managua on Thursday, riot police with assault rifles patrolled mainly empty main streets where petrol stations, supermarkets and corner shops were closed.
Elsewhere clashes erupted between protesters and police.
A 15-year-old altar boy died in the city of Leon after being shot by security forces, the auxiliary bishop of Managua, Silvio Jose Baez, said.
He also said riot police had fired indiscriminately in the streets of Nindiri, south-east of Managua. The report could not be confirmed.
Reports of street battles also came from Nagarote, Masatepe and Tipitapa.
Meanwhile, fresh talks between the government and opposition groups are due to take place on Friday to try to find a solution to the crisis.
The country's Roman Catholic Church has previously tried to broker an agreement but all efforts have so far failed.
Last month, the Inter-American Commission on Human Rights (IACHR) visited Nicaragua and said it had seen grave violations of human rights during the protests. It said state security forces and armed third parties had used excessive force.
On Thursday, Nicaragua's foreign ministry rejected the report as "biased".
The street protests have become the biggest challenge to Mr Ortega's authority since he took office in 2007.
He says rallies have been infiltrated by criminals and gang members.
Student activists and union leaders have accused him of violent repression and called for him to step down.
Mr Ortega is a former left-wing Sandinista guerrilla who helped to overthrow the dictatorship of Anastasio Somoza in the 1970s.
However, his critics accuse him and his wife Rosario Murillo, who is his vice-president, of also behaving like dictators.