Barbuda sees a comeback of national bird after Hurricane Irma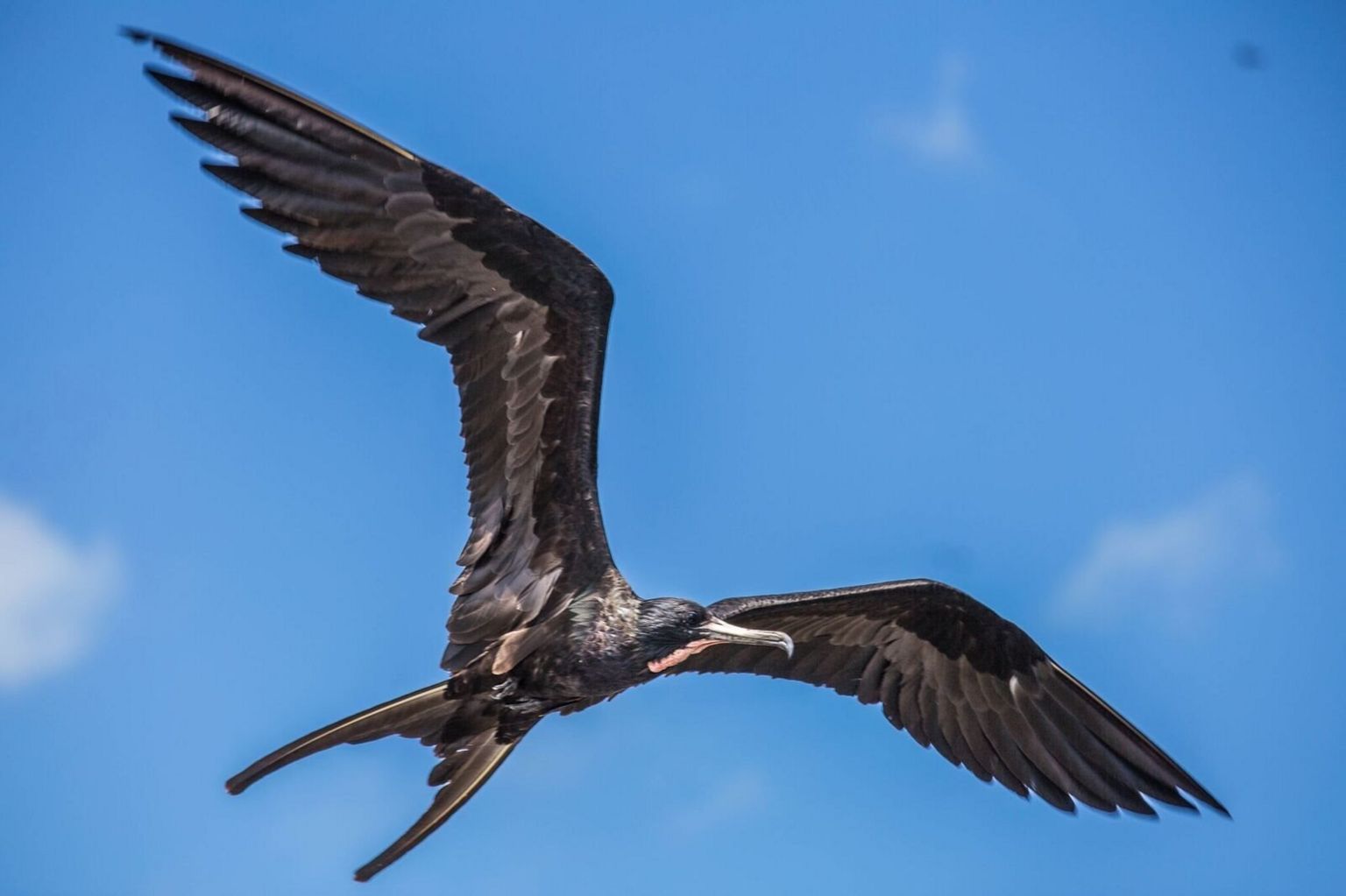 Codrington Lagoon is said to be the second-largest nesting area outside the Galapagos and has attracted tourists for decades.
But most of the erstwhile 10,000-strong frigatebird population disappeared in the immediate aftermath of the disaster when the catastrophic winds destroyed the mangroves in which they nest and breed.
The aptly named magnificent frigatebirds are famed for their colossal 7ft (2.1m) wingspan and the males' spectacular show of flirting by puffing out their throats into a bright red balloon during mating season.
Earned the nickname "man o' war birds" due to their habit of aggressively stealing food from other birds
Females select mates and form monogamous pairs for the duration of the breeding season
Females lay just one egg, every other year
Juvenile frigatebirds stay with the mother for up to two years
Graceful in flight, they are clumsy on land because of their short legs and small feet
They have called this pristine, peaceful area on Antigua's sister island home for as long as residents can remember.
Happily, the birds have started to return and even build nests in the fragile, decaying stumps of the once luscious trees. Numbers are now set to rise further thanks to an imminent mangrove restoration project being funded by a team of four transatlantic rowers who are also ardent local environmentalists.
In January, Team Antigua completed the gruelling 3,000-mile (4,800km) Talisker Whisky Atlantic Challenge race from the Canary Islands to Antigua in just 30 days, taking second place.
John Watt, Scott Potter, Nico Psihoyos and Eli Fuller raised more than $150,000 (£112,000) towards their goal of creating a marine park in Antigua.
"We decided to give a third of the money to Barbuda and we were keen for it to be an environmental project," Mr Fuller explains.
"The bird sanctuary is critically important for Codrington economically. And ecologically, you won't find many places as crucial as Barbuda. It's not just birds - it's a vital nesting ground for critically endangered hawksbill turtles too."
The sanctuary has long been a significant source of revenue for Barbudans, several of whom earn a living as tour guides. "Some people do as many as three trips a day in high season," says part-time guide Devon Warner.
Seeing the area stripped of vegetation and devoid of birds in the first days after the storm was "horrifying", park manager Kelly Burton tells the BBC.
"The first thing going through my mind was, would they ever come back?" Mr Burton recalls.
"Seeing the birds return and nest was a great relief. Many have chicks right now so they will be here at least another year or two. The restoration will be a huge help."
Many of the birds live year round in Barbuda. Others travel between the Caribbean and the Galapagos and there are a handful of other known nesting sites in the region, Mr Burton says.
"But the healthiest place is Barbuda. Scientists once took blood samples from the birds to see why ours were so healthy. They think it's due to the low levels of mercury in the fish they eat."
The non-profit Waitt Institute will oversee the mangrove project as part of its marine conservation partnership with the Barbuda Council, known as Blue Halo Barbuda.
The process involves collecting several thousand seeds - or propagules - from coastal areas and planting them in a new purpose-built nursery, says science and field manager Andy Estep.
"They will soak in little pots for six months to a year before being planted at the sanctuary," he explains.
The $50,000 donated by the rowers will be spent on equipment and supplies for the nursery and a salary for its manager, plus travel expenses for visiting experts from the University of the West Indies.
Barbudans will be trained to run the nursery and grow propagules for future programmes.
Preliminary assessments to gauge the quality of the water in the lagoon, along with salinity, acidity and oxygen levels to help predict how well the young mangroves will thrive, are now poised to begin.
"More than half of the tree mass was lost to Irma," Mr Estep continues.
"If we can return it to its former state, that would be fantastic. It's a beautiful place normally and so full of life as one of the two biggest reproductive hotspots for frigatebirds."
Nine months after the storm ripped Barbuda apart, causing damage estimated at $220m, islanders are battling on to pick up the pieces of their shattered lives.
Just like the birds, Barbudans too are slowly coming home. Around 500 of the former 1,800 residents have so far returned from Antigua to rebuild homes and businesses.
Reviving the touristic offerings will be key, argues Mr Burton.
"The frigates are also our national bird and something unique to Barbuda. They're been part of the landscape forever," he says. "They choose to make this place their home; it's up to us, as stewards of the land, to look after it for them."