Peru political turmoil: Supreme court president resigns over tapes scandal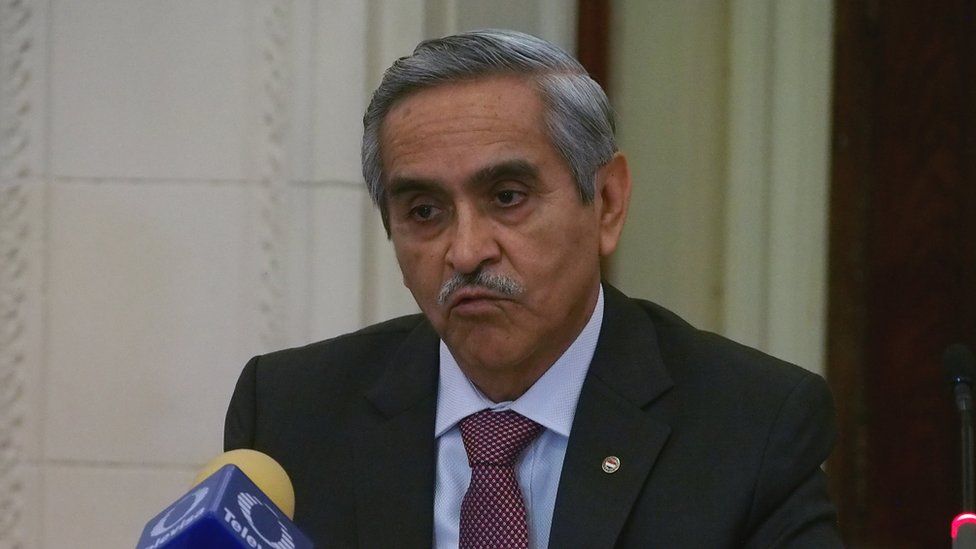 The president of Peru's Supreme Court has resigned amid a widening corruption scandal that has rocked the country's judicial system.
Duberli Rodriguez's resignation follows the release last week of audiotapes suggesting sentences could be bought and judicial influence paid for.
Orlando Velasquez, the president of the National Council of the Magistrature, has also resigned.
The justice minister, Salvador Heresi, was forced to step down on Saturday.
Mr Heresi was recorded arranging a meeting with a Supreme Court judge, Cesar Hinostroza Pariachi, who seemed to be offering to sell favours. Both men have denied any wrongdoing.
On another of the tapes, which were published by a Peruvian investigative website and TV programme, a judge discussed reducing the sentence or declaring innocent a man accused of raping a young girl.
Mr Rodriguez had come under pressure from Supreme Court colleagues to step down and cede his chair to someone untouched by Peru's corruption problem.
He said in a statement: "Given the institutional crisis that the judicial branch is going through, I present my irrevocable resignation from the post." He said the reasons for his resignation would be explained during an extraordinary session of the court on Thursday.
Peru's former president, Pedro Pablo Kuczynski, was forced to resign in March after less than two years in office, after it emerged he had undisclosed financial ties to Brazilian construction giant Odebrecht.
Mr Kuczynski's predecessor, Alberto Fujimori, resigned in 2000 in the wake of a corruption scandal. He was sentenced in 2009 to 25 years in prison but was freed by Mr Kuczynski by presidential pardon in December 2017.
Mr Kuczynski said he was granting the pardon on humanitarian grounds, because Mr Fujimori was suffering from a degenerative disease, but the act sparked protests on the streets of Peru.
Mr Vizcarra appointed a committee of six judges to deliver a judicial reform proposal and called an extraordinary session of parliament for Friday to discuss the scandal.