Last survivor: The story of the 'world's loneliest man'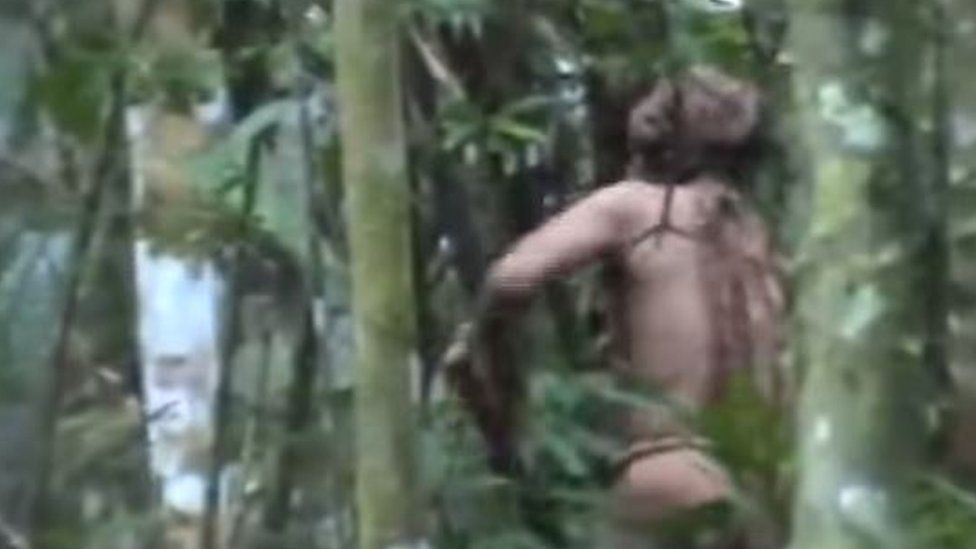 Extremely rare video footage has emerged of a tribe member who has been called the "loneliest man in the world".
The 50-something man has been living alone in the Brazilian Amazon for 22 years, after the last members of his tribe were murdered.
The shaky video - filmed at a distance and released by the Brazilian government's indigenous agency, Funai - shows a muscular man cutting a tree with an axe.
The footage has been shared around the world, but there is more to it than meets the eye.
Funai has been monitoring the man from afar since 1996, and needs to show he is still alive to renew a restriction order on the area of land he roams, in the north-west state of Rondonia.
The area - spanning around 4,000 hectares - is surrounded by private farms and deforested clearings, but the order prevents anyone from entering and endangering him.
Under the Brazilian constitution, indigenous people have a right to land.
"There is also a political motivation for releasing the video," she told the BBC. "Congress is dominated by agribusiness; Funai has had its budget slashed. There is a big assault on indigenous rights going on in the country."
Farmers have in the past contested Funai claims.
What is known about the man?
Very little. Even though he has been the subject of various research reports, press articles and a book - The Last of the Tribe: The Epic Quest to Save a Lone Man in the Amazon by US journalist Monte Reel.
The man is classed as uncontacted, meaning no outsider has ever spoken to him (as far as it is known).
He is believed to be the only survivor after a group of six was attacked by farmers in 1995.
His tribe has never been named, and it is not known what language they used.
For years, the Brazilian media has dubbed him "the Hole Indian", because he leaves behind deep ditches, presumably used to trap animals or to hide.
In the past, he has also abandoned straw huts and handmade tools, such as resin torches and arrows.
Why is this footage rare?
Only one single, blurred photo of him has existed until now.
It was taken by a filmmaker who accompanied Funai on a monitoring trip and was shown very briefly in a 1998 Brazilian documentary, Corumbiara.
Activists say they are pleased - and surprised - to discover the man is in apparent good health.
"He is very well, hunting, maintaining some plantations of papaya, corn," Altair Algayer, a Funai regional coordinator, told the Guardian.
The agency has a policy of avoiding contact with isolated groups, and says the man has made clear that he does not want to be contacted, having shot arrows at people in the past.
"He has undergone such a violent experience, he sees the world as a very dangerous place," said Fiona Watson, who has visited the area and seen the man's camps.
Although the video may seem voyeuristic, Ms Watson insists it is essential to protect him.
"We get offered lots of videos, but there has to be real imperative to publish them," she added.
Why is he in so much danger?
The majority of his tribe is thought to have been decimated in the 1970s and 80s, after a road was built nearby, causing a rise in demand for land for business purposes.
Today, farmers and illegal loggers still want his land.
He could also find himself confronted by "pistoleros", who are essentially guns-for-hire, patrolling the area for cattle ranchers.
In 2009, a temporary camp erected by Funai monitors was ransacked by an armed group. Two gun cartridges were left behind as an apparent threat.
Brazil's Amazon rainforest is home to more uncontacted tribes than anywhere in the world, according to Survival International.
Contact with the outside world also risks death from flu, measles or other commonly treatable conditions, as the tribespeople's immunity is low.
"In a way we don't need to know anything about him," Ms Watson said of the so-called Man of the Hole.
"But he is a symbol of what we are losing - this tremendous human diversity."