Nicaraguan leader Daniel Ortega's brother calls on him to end violence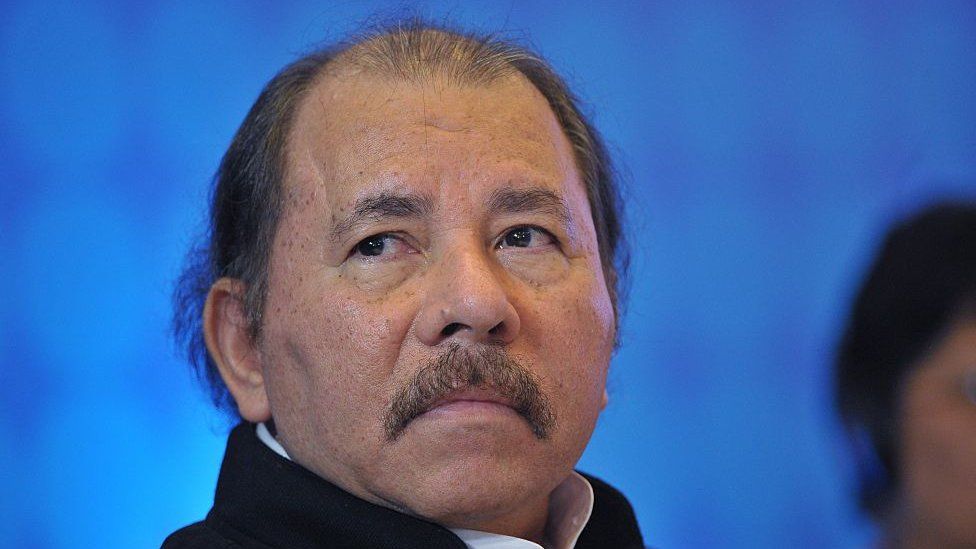 Humberto Ortega, the ex-head of Nicaragua's military, has called on his brother President Daniel Ortega to stop the pro-government paramilitaries that are blamed for months of deadly unrest.
The government must act responsibly to "end the presence of these armed people", said Humberto Ortega in a TV interview with CNN En Español.
President Ortega has defied calls to stand down and blamed the opposition.
More than 300 people have died during three months of protest in the country.
President Ortega, 72, gave a rare interview to US news channel Fox earlier this week to address the crisis. He said the paramilitaries were funded by opposition MPs and drug cartels, but he provided no evidence of the alleged links.
His 71-year-old brother - a former defence minister and stalwart of the Sandinista revolution - said the paramilitaries act "as if they are a military or police authority". He urged the president to work with the army to resolve the situation.
In July, he published an open letter, making a similar plea and calling for the election to be brought forward.
More than 40 medical staff have been sacked for treating wounded anti-government protesters in the city of Leon, it was reported on Friday.
Doctors, nurses and technicians are among those who lost their jobs at a public hospital.
The protests - which began as a stand against pension reform - have escalated since April, turning into a broader call for the president to resign.
Human rights activists say that paramilitary groups loyal to the government, known locally as "grupos de choque" (shock forces), are behind much of the violence against demonstrators and often use live ammunition.
The government says protesters are terrorists and accuses them of plotting a coup d'etat against President Ortega, who was re-elected to a third consecutive term in office in 2016.
Some police officers have also been killed in the clashes.
Daniel and Humberto Ortega were key players in the Sandinista revolution in the 1970s.
After the group succeeded in their aim to bring down the presidential dynasty, Daniel became president and Humberto was minister of defence.
Humberto Ortega continued in the role through his brother's first presidency and the rule of his successor, Violeta Barrios de Chamorro.
He retired in 1995 and has been critical of his brother since he returned to power in 2007.
He has said he has a "very respectful and fraternal" relationship with the president, but that they do not have direct communication, according to AFP news agency.