Mexico's Popocatépetl volcano spews ash high into the sky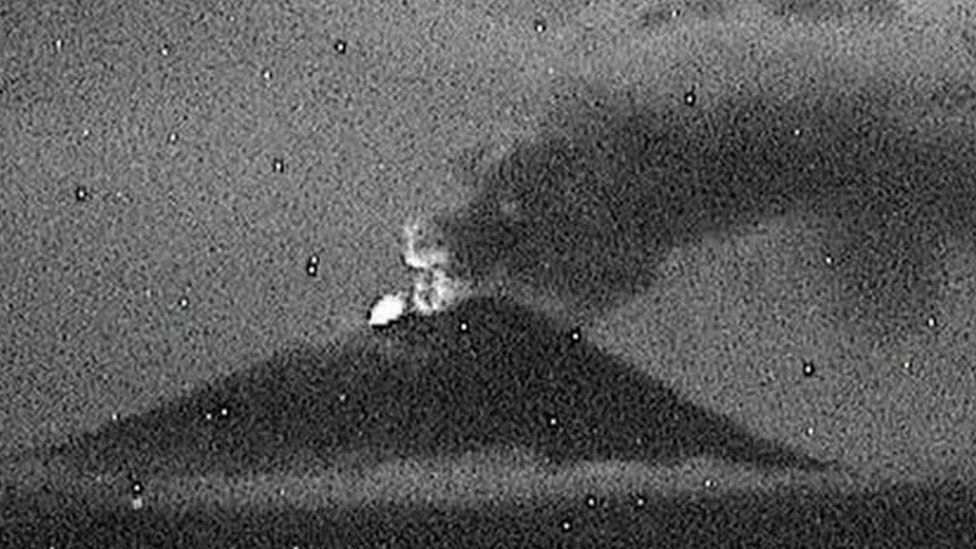 One of Mexico's most active volcanoes has sent a huge ash plume into the sky, the country's centre of disaster monitoring has reported.
Overnight video taken by the centre shows ash and incandescent material shooting from the Popocatépetl volcano 2,000m (6,500ft) into the air.
People have been warned to avoid the area inside the 12km security radius surrounding its crater.
Ash has been falling on communities near the volcano.
Carlos Valdés, the director-general of the monitoring centre, Cenapred, posted footage of the eruption on his Twitter account.
He wrote that incandescent material had been thrown 400m down the slopes of Popocatépetl.
Video de la actividad del Popocatépetl de las 3:10 am. Lanzamiento de fragmentos incandescentes hasta 400 mts de distancia sobre la ladera del volcán. Ceniza alcanza 2 km de altura. pic.twitter.com/muKrXlonK3

— Dr. Carlos Valdes (@CarlosMValdes1) July 31, 2018
Popocatépetl is an active stratovolcano, 70km (43 miles) south-east of the capital, Mexico City.
Its name means "smokey mountain" in the indigenous Náhuatl language.