Peru poisoning: Ten die after eating contaminated food at wake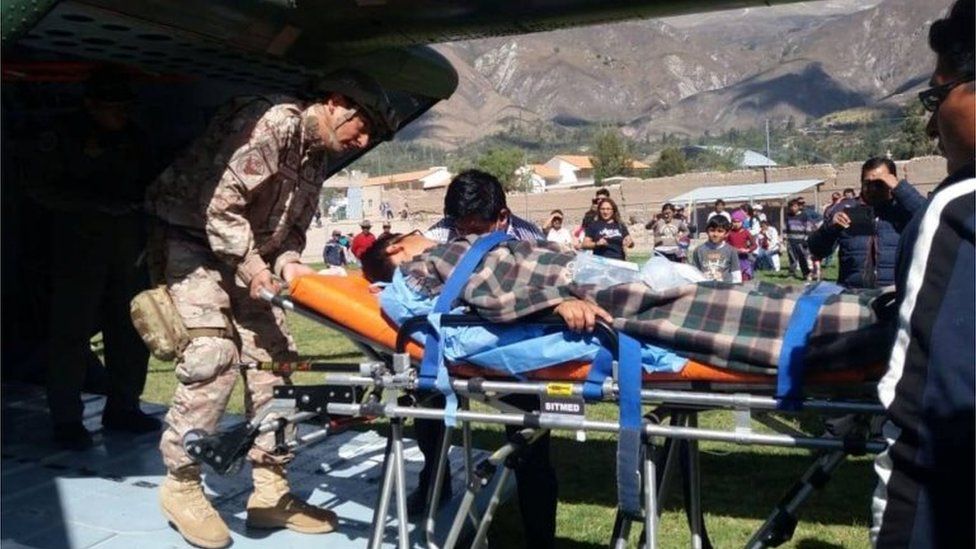 The number of people killed by suspected poisoned food after a wake in the Ayacucho region of southern Peru has risen to 10.
The health minister said she suspected the food had come into contact with insecticide.
Local hospitals said 21 people were in a serious condition.
About 50 people attended the wake of a local man where a meat stew believed to be the source of the intoxication was served.
Specialists who have travelled to the affected district of San José de Ushua said they would need to carry out further tests to be sure.
Regional health director John Tinco Bautista said many of those who attended the wake began falling ill within hours.
Among the fatalities are the dead man's two eldest sons. The mayor of San José de Ushua, Iván Villagomez Llamoca, is among those taken ill. His father and his 12-year-old nephew have died.
"The whole village has been poisoned. I can't grasp it yet - I have lost my family. It's a huge tragedy, thank God I'm alive," Mayor Villagomez said.
The incident comes less than a month after hundreds of Peruvian schoolchildren fell ill after eating breakfasts provided at more than a dozen schools in Cañete province.
The free meals are part of a government programme to ensure schoolchildren from poorer backgrounds receive adequate nutrition.
In that case, the source of the contamination was suspected to have been a fruit juice that had gone off. The company which provided the breakfasts is facing legal action.