Iván Duque: Colombia's new president sworn into office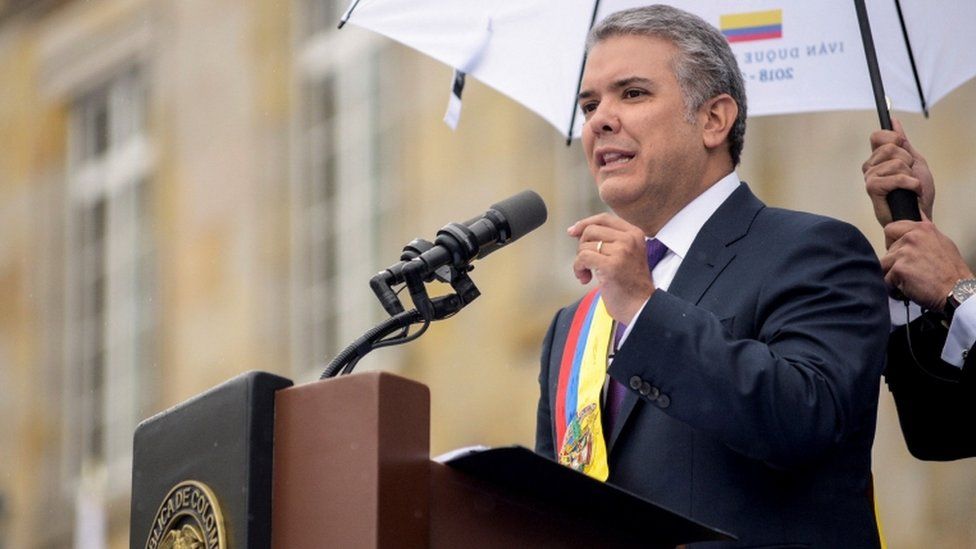 Colombia's newly-elected President Iván Duque took office on Tuesday, pledging to unite the country and improve economic growth.
The conservative political newcomer was elected in June after a divisive election campaign where he saw off left-wing rival Gustavo Petro.
In his inaugural address, the former lawyer pledged changes to tackle corruption and invigorate the economy.
The leader has also vowed to change the peace deal with the Farc rebel group.
The outgoing President Juan Manuel Santos has urged Mr Duque to respect the deal, which was negotiated in 2016 to bring an end to the country's brutal five-decade civil conflict.
Mr Duque has said he remains committed to Colombia's peace process, but says that it is too lenient on former guerrilla fighters accused of war crimes.
"We will deploy corrective measures to ensure that the victims get the truth, proportional justice, reparations and no repetitions of the past," the new president said in his address on Tuesday.
Mr Duque also spoke about the need to heal the country after a divisive election campaign earlier this year.
The Centro Democrático (Democratic Centre) party candidate beat opponent Gustavo Petro by 12 points in June - winning the run-off election with 54% of the final vote.
"I want to govern Colombia with unbreakable values and principles, overcoming the divisions of left and right, overcoming with popular dialogue the prickly feelings that invite social fracture, I want to govern Colombia with a spirit to build, never to destroy," President Duque said in his address.
His political platform is considered business-friendly after he pledged to cut taxes and boost investment in Colombia's economy.
Mr Duque, who at 42 is the youngest Colombian to be president in the modern era, was handpicked as party leader by founder Álvaro Uribe Velez, who himself was president from 2002 to 2010.
Mr Duque's running mate, Marta Lucía Ramirez, has become the country's first ever female vice-president.
The allegation was described as "baseless" by Bogota.