Venezuela crisis: Brazil deploys troops after migrant attacks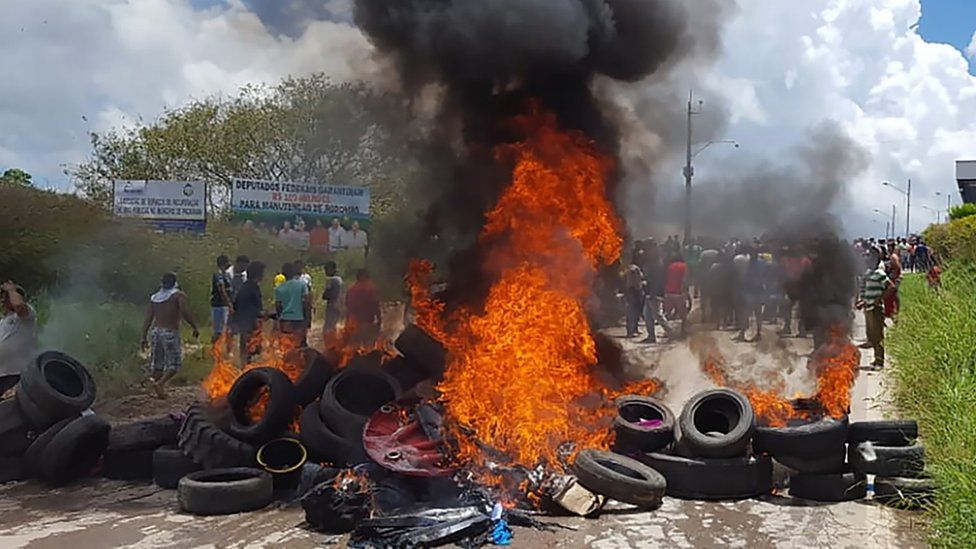 Brazil is sending troops and extra police to the border town of Pacaraima where Venezuelan migrant camps were attacked and set ablaze.
President Michel Temer held an emergency meeting on Sunday as regional tensions rose over the numbers fleeing crisis-hit Venezuela.
Venezuela has asked its neighbour to ensure the safety of its citizens.
In Ecuador, desperate Venezuelans were reported to be crossing the border in defiance of new entry requirements.
Hundreds were stranded on Saturday when Ecuador brought in new rules requiring Venezuelans crossing from Colombia to have valid passports rather than just identity cards.
Most of the migrants are heading south to join family members in Peru and Chile.
They are seeking a better life amid a worsening political and economic crisis in Venezuela that has led to soaring inflation and chronic shortages of food and medicines.
What happened on the Brazilian border?
In Pacaraima on Saturday, several migrant encampments were attacked by angry residents following reports that a local restaurant owner had been badly beaten by Venezuelans.
There has been growing animosity towards the numbers of Venezuelan migrants entering Roraima state in recent months.
Gangs of men carrying stones and sticks set fire to tents and other items belonging to the Venezuelans, and more than 1,000 migrants were said to have fled back across the border.
On the Venezuelan side, there were reports that Brazilian cars had been attacked.
Pacaraima was reported to be quiet on Sunday. Brazil's public security ministry said it was sending a contingent of 60 troops to support police in the area. They are due to arrive on Monday.
Meanwhile, the Venezuelan foreign ministry called on Brazil to give "guarantees to Venezuelan nationals and take measures to safeguard and secure their families and belongings".
What's happened in Ecuador?
Correspondents said many desperate Venezuelan migrants were defying new rules on Sunday and crossing the border from Colombia into Ecuador.
At the Rumichaca checkpoint near the western town of Ipiales, dozens who had been stopped from crossing on Saturday simply walked across the loosely guarded border, Reuters news agency reported.
"We have no money, we need to move on now and get our lives back," said primary school teacher Mayerly Isaguirre.
Many others were huddled in makeshift camps trying to stay warm in the mountainous climate.
"We are from the Caribbean, we can't handle this cold," said Jorge Luis Torrealba, who had travelled from Venezuela with a group of friends and family members.
Charity workers warned that those crossing illegally were liable to hit by fines when they reached the border with Peru.
"And these people don't have money," said Gustavo Salvador of the Red Cross.
Until Saturday, thousands of Venezuelans had been able to cross into Ecuador from Colombia using only identity cards. The new rules took many by surprise.
Ecuador said on Sunday that children and adolescents could still cross without passports if travelling with their parents.
What have Venezuela's other neighbours said?
With the flow of Venezuelan migrants causing regional tensions, Peru's government has announced that passport requirements for Venezuelans will begin on 25 August.
In February, Colombian President Juan Manuel Santos also announced a tightening of border controls, resulting in thousands of Venezuelans rushing to crossing points.
Why are people fleeing Venezuela?
Venezuela is suffering from the highest inflation in the world, with severe shortages of basic food items and medicines.
Many people there report going hungry as they struggle to feed themselves, and have decided to leave the country in search of better economic conditions.
The country is also in the midst of a political crisis, with Venezuela's opposition blaming the policies of the ruling Socialist Party on the struggling but oil-rich economy.
Last year scores of protesters were killed in clashes during months of anti-government protests.
Despite opposition efforts to remove President Nicolás Maduro from office, he was re-elected in May's poll. An apparent assassination attempt on Mr Maduro earlier this month has raised tensions in the country even further.