Venezuela crisis: Brazil to send army to safeguard border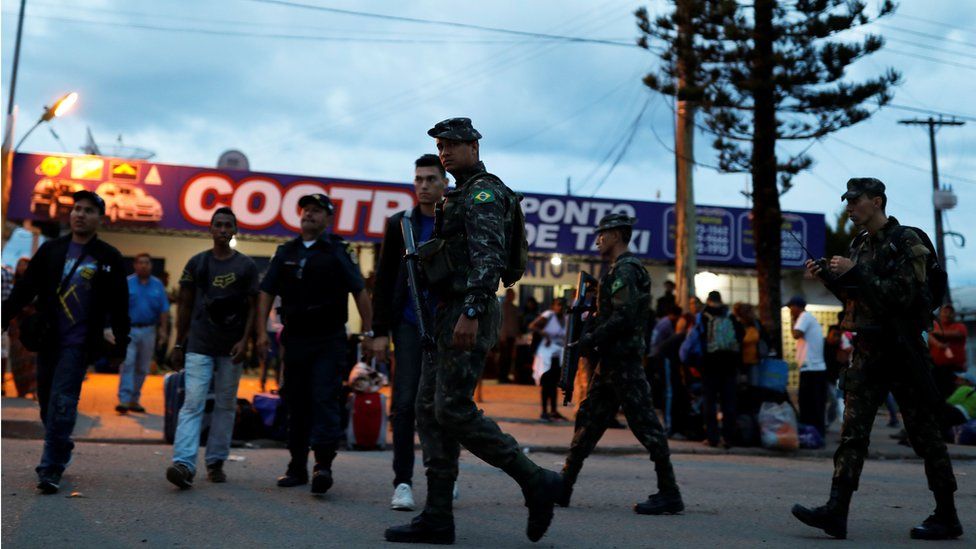 Brazil says it is sending its army to the Venezuelan border to "guarantee law and order" amid an influx of migrants fleeing the crisis-hit country.
President Michel Temer said in a televised address on Tuesday that Venezuela's "tragic" situation threatened peace across South America.
Millions of Venezuelans have fled their country due to hyperinflation, and food and medicine shortages.
Brazil's move follows recent border clashes between locals and Venezuelans.
On Tuesday, he signed a decree which will deploy soldiers for two weeks along the border and federal roads of its northern state of Roraima.
"The problem of Venezuela is no longer one of internal politics. It is a threat to the harmony of the whole continent," Mr Temer said.
In addition to ensuring the security of Brazilians, the soldiers' role is also to look after the Venezuelan migrants' safety, the president stated.
Meanwhile, neighbouring Peru has declared a 60-day health emergency in two provinces on its northern border, after health authorities expressed concerns of the spread of diseases from migrants.
What is happening in Venezuela?
Venezuela is in its fourth year of an economic crisis, brought on by a crash in oil prices in 2014.
Four in five Venezuelans live in poverty, and people queue for hours to buy food while others are dying from a lack of medicine.
Some 2.3 million citizens have fled the country since 2014, sparking the worst migration crisis in Latin American history, according to the United Nations.
Regional tensions have been stoked, as neighbouring countries struggle to accommodate the exodus of Venezuelans.
What are neighbouring countries doing?
There are more than a million Venezuelans in Colombia, more than half a million in Ecuador, more than 400,000 in Peru and some 60,000 in Brazil.
Brazil has not said how many of its armed forces will be sent to police the border this week.
One minister told journalists that troops were already in place, while another warned Brazil "needs to discipline" the influx of migrants.
Similar regulations were introduced in Ecuador, only to be overturned by a court ruling.
Brazil's northern state of Roraima has also had its attempt to close the border with Venezuela thrown out by a judge.
Violence erupted in Pacaraima last week when local residents attacked makeshift camps housing Venezuelan migrants. The camps were burned down and the occupants temporarily fled back across the border.
Despite the violence, the number of Venezuelans crossing daily into Brazil has continued to rise.
Foreign ministers from Ecuador, Colombia and possibly Peru and Brazil are expected to meet and discuss Venezuelan migration in Ecuador next week, after top immigration officials met at an earlier summit in Colombia's capital Bogotá.
Where is Venezuela in all this?
Many are blaming Venezuelan President Nicolás Maduro and his socialist government for the dire state the nation is in and the exodus of its citizens.
He blames "imperialists" - the US and Europe - for waging "economic war" against Venezuela and imposing sanctions on many members of his government.
The head of Venezuela's constituent assembly suggested the country's escalating migration crisis was being staged to make the government look bad.
"Doesn't it strike you as suspicious there are photos of [these people] walking along the roadside in Peru, walking along the roadside in Ecuador, walking along the roadside in Colombia," said Diosdado Cabello, according to local media.
"It's as if it was: 'Lights, camera, action!' It's a campaign against our country," Mr Cabello said last week.
On Tuesday, Venezuelan state media reported 89 citizens had been repatriated from Peru after being exploited there.
Critics however called the move a publicity stunt.