Cuban President Miguel Díaz-Canel backs same-sex marriage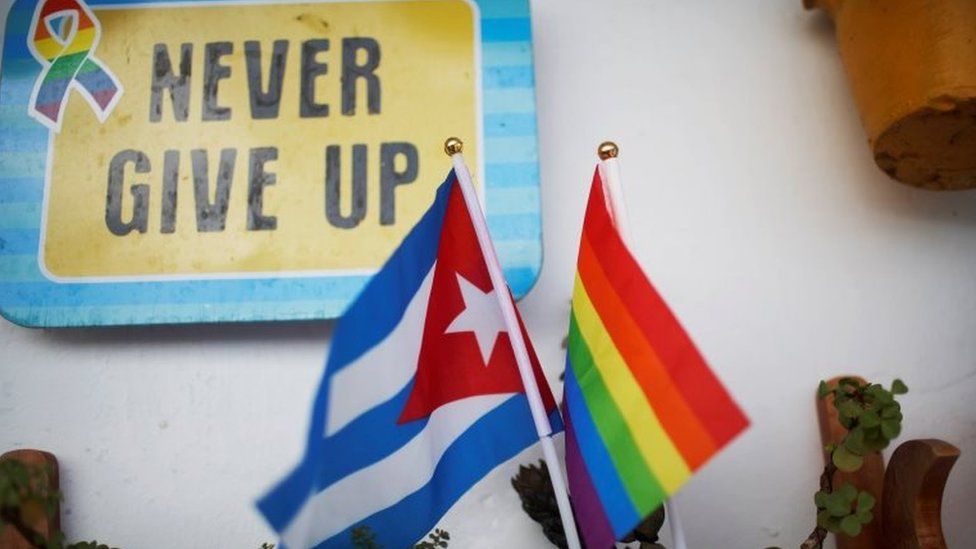 Cuban President Miguel Díaz-Canel has backed same-sex marriage.
The Cuban leader, who took over from Raúl Castro on 19 April, said he was in favour of recognising "marriage between people without any restrictions".
In an interview with TV Telesur, he said doing so was "part of eliminating any type of discrimination in society".
It comes as Cuba is in the process of updating its constitution, which had defined marriage as between "a man and a woman".
The proposed constitution will replace the 1976 national charter once a popular consultation is concluded and the draft has been approved in a national referendum scheduled for February 2019.
'Massive thought evolution'
President Díaz-Canel's endorsement of same-sex marriage is in stark contrast to the persecution homosexuals suffered in the decades following the 1959 Cuban revolution.
Official attitudes towards homosexuality on the Communist-run island have changed over the past decades partly thanks to the efforts of Raúl Castro's daughter Mariela.
Ms Castro, who heads the Cuban National Centre for Sex Education, has been a vocal defender of LGBT rights.
"We've been going through a massive thought evolution and many taboos have been broken," Mr Díaz-Canel told Telesur.
The president also commented on the status of US-Cuban relations which he said were "in decline".
"We still maintain channels of dialogue and our position is that we do not reject the possibility of dialogue at any time, but it must be between equals," he said.
US-Cuban relations had improved markedly under US President Barack Obama following secret talks between the two governments.
But President Donald Trump has rolled back parts of what he called Mr Obama's "completely one-sided deal with Cuba".
Rules on US citizens travelling to Cuba which had been relaxed under Mr Obama have been tightened again under President Trump.
Mr Díaz-Canel said the US economic blockade remained "the main obstacle to the development of the country".
"We have not attacked anyone," President Díaz-Canel said.