Venezuela's migration crisis: Is enough being done?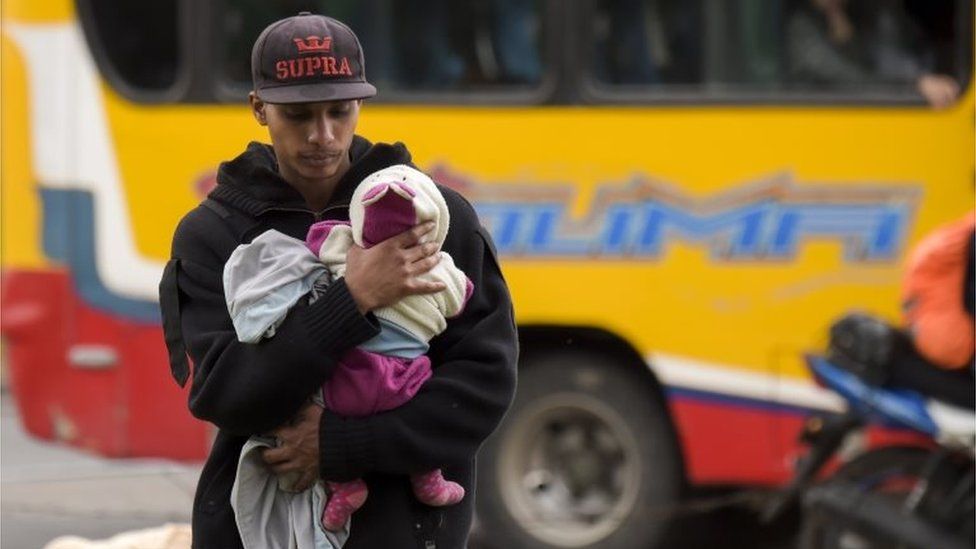 It has been called one of the worst migration crises in Latin America's history. The United Nations has said it could reach a "crisis point' comparable to what was seen in the Mediterranean in 2015. And Brazil's President Michel Temer has warned it is now a threat to the peace of all of South America.
The BBC's South America correspondent, Katy Watson, looks at how the crisis has been dealt with so far and what more can be done.
How are Venezuela's neighbours coping?
Tensions have been mounting among Venezuela's neighbours. In August, there were clashes on the Brazil-Venezuela border between migrants and locals.
Ecuador and Peru restricted entry of Venezuelans to those with passports, although Ecuador's decision was later overturned by a judge. It drew criticism from neighbours like Colombia. Ecuador also declared a state of emergency in parts of the country most affected by migration.
Find out more about Venezuela's crisis:
All of this led people to worry that the region was starting to shut down, at a time when Venezuelans most need help. But, say experts, the past few weeks need to be put into context.
"The reality is that very quietly for two years, South Americans have welcomed more than two million Venezuelans without taking any of these restrictive measures," says Benjamin Gedan of the Woodrow Wilson Centre in Washington DC.
"They are now reaching their capacities and their political systems are reacting. This region has been much, much more generous than is the trend in the rest of the world."
What are countries in the region doing?
Some have criticised the regional response as haphazard. But in recent weeks, Latin American nations seem to be working together.
Brazil is stepping up efforts to relocate Venezuelans from the isolated north of the country to bigger cities like Rio de Janeiro and São Paulo so they can find work and settle more easily.
In it, they agreed the need for more cooperation and information sharing, as well as extra support for the countries most affected by migration, such as Colombia.
Are Venezuelan migrants adequately protected?
Latin America has some of the most advanced laws in the world when it comes to migrants and refugees.
Many countries established the laws when immigration was not a concern - people were leaving the region for Europe and the US. But those times have changed with the Venezuelan migration crisis.
"The Venezuelan displacement I see as a first test of this liberalisation of immigration and refugee laws in the region," says Feline Freier of the University of the Pacific in Peru.
It defines refugees as including people who have fled the country because of generalised violence and massive violation of human rights that have disturbed public order - so under Cartagena, says Ms Freire, most Venezuelans would be classified as refugees.
There is still a reluctance to classify the situation as a full-on refugee crisis, as that comes with more responsibilities than a migrant crisis.
The UN refugee agency (UNHCR) has referred to a "mixed flow" of migrants and refugees.
The region in turn has preferred to integrate Venezuelans into society rather than categorise them as refugees.
The US and EU have sanctioned Venezuela, but not the UN - could that change?
Just last week, the US Ambassador to the UN, Nikki Haley, called on members of the UN Security Council to take steps for more concrete action against Venezuela.
But with permanent Security Council members Russia and China still allies of Venezuela, there is little prospect of agreement among the Council members. Added to that, there have to be specific conditions to merit a UN Security Council response.
"There isn't the level of violence that would make it easy to argue that Venezuela is a threat to international peace and security that demands Security Council action," says Marcos Tourinho of the Getúlio Vargas Foundation in São Paulo.
"If the crisis becomes even more internationalised than it is now, I think you could see pressure from neighbouring states to have more action in the Security Council. But it's not reached that point yet."
US President Donald Trump has threatened military action, but that has been widely condemned.
Just this weekend, the Lima Group of Latin American countries expressed its concern after the head of the Organization of American States, Luis Almagro, said military intervention would not be ruled out.
"The US is traditionally the leader in the Western Hemisphere on issues of humanitarian concern, particularly on refugee issues," says Benjamin Gedan.
"Although it would be nice for the US to play a leadership role, it would also be laughable and deeply hypocritical for the US to strong-arm countries in the region to act humanely towards Venezuelan migrants when the US has such a restrictionist policy right now regarding immigrants and refugees."
"The US has completely lost credibility on what is one of the most pressing global concerns."