Nicolás Maduro: Fury over Venezuela leader's Salt Bae 'feast'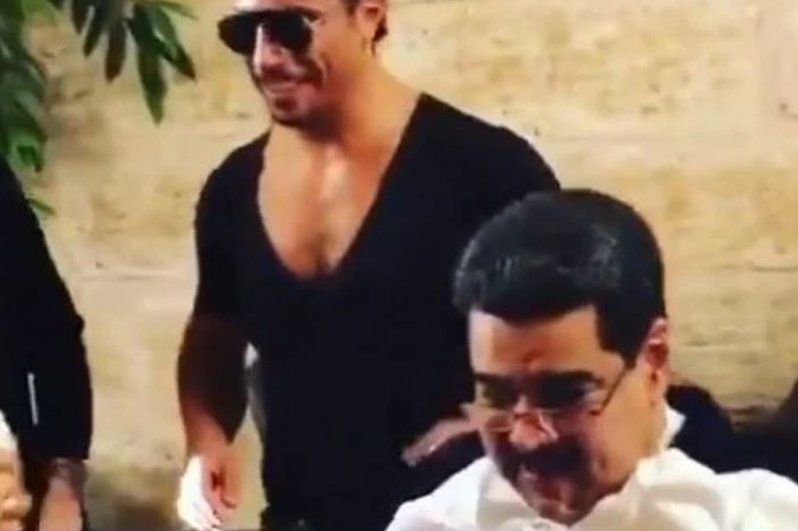 Video of Venezuela's President Nicolás Maduro eating in an upscale steak restaurant in Turkey has caused outrage in crisis-hit Venezuela.
The images show Turkish celebrity chef Nusret Gokce, also known as "Salt Bae" carving meat in front of the president and his wife, Cilia Flores, at Gokce's Nusr-Et restaurant in Istanbul.
Almost two-thirds of Venezuelans have reported losing weight as shortages of food worsened in recent years.
Red meat is especially scarce.
Chef Nusret Gokce posted three videos of Mr Maduro's visit on Instagram, but has since deleted them. But many social media users reposted the video:
Today I decided to stop following @nusr_ett You decided to erase this video but what you did remains. Shame on you! You cheered and served a tyrant responsable for the hunger, malnutrition and death of thousands of Venezuelans!
By the way, he is not a president. He is a dictator! pic.twitter.com/pddjPSEztO

— Marcel Imery (@NachoImery) September 17, 2018
The chef, who has been dubbed Salt Bae for his stylised way of sprinkling salt on his meat, is seen carving meat in front of the couple with dramatic flair.
President Maduro can be heard saying: "This is a once in a lifetime moment."
Other videos show President Maduro smoking a cigar taken from a box with his name engraved on a plaque, and Cilia Flores holding up a T-shirt with the chef's image.
Find out more about Venezuela's crisis:
Gokce owns several luxurious restaurants in the US, the Middle East and Turkey, and videos of him carving meat have been watched by millions of people.
His restaurants sell some cuts of meat for several hundred dollars.
The presidential couple were in Istanbul on a stop-over from China, where the president was trying to drum up investment.
The videos were shared widely by critics of Mr Maduro.
Opposition leader Julio Borges, who is living outside Venezuela for fear of arrest, tweeted: "While Venezuelans suffer and die of hunger, Nicolás Maduro and Cilia Flores have a good time in one of the most expensive restaurants in the world, all with money stolen from the Venezuelan people."
US Republican senator Marco Rubio, a vocal opponent of President Maduro, laid into the Turkish chef on Twitter.
I don't know who this weirdo #Saltbae is, but the guy he is so proud to host is not the President of #Venezuela. He is actually the overweight dictator of a nation where 30% of the people eat only once a day & infants are suffering from malnutrition. https://t.co/sSNPK9cAAx

— Marco Rubio (@marcorubio) September 18, 2018
But criticism was heaviest in Venezuela, where 64% of people have reported losing significant amounts of weight, 11kg (24lbs) on average, amid worsening food shortages.
Child malnutrition is at record levels and 2.3 million people have left the country since 2014.
Cartoonists have pounced on the incident to highlight the disparity between the president's meal and the fact that many Venezuelans are having to search the rubbish for food.
President Maduro spoke about the now-controversial lunch during a televised news conference, confirming that he had eaten there during his stopover from China.
"Nusret attended to us personally. We were chatting, having a good time with him," Mr Maduro said.
He also said that Gokce had told him that "he loves Venezuela". The chef has not commented.