Venezuela crisis: Maduro willing to 'shake hands' with Trump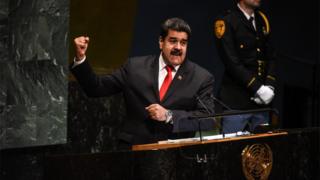 Venezuelan President Nicolás Maduro said on Wednesday he was willing to "shake hands" with his US counterpart Donald Trump "despite the differences".
The socialist leader made an unexpected visit to the UN General Assembly in New York to "defend his country".
Six nations have accused him of crimes against humanity, while Mr Trump has hinted at military action against Venezuela on top of existing sanctions.
President Trump had earlier said he was willing to meet Mr Maduro.
However the US leader also told journalists "all options are on the table" because "I want to see Venezuela straightened out".
Venezuela has been in a dire economic crisis since 2014. An estimated 2.3 million citizens have fled hyperinflation, power cuts, and food and medicine shortages.
What did Mr Maduro say?
The Venezuelan leader took to the UN stage to say, "Despite the differences... I would be willing to reach out my hand to the president of the United States, Donald Trump, to discuss matters bilaterally."
During his prolonged address, he stressed that he was "a worker, a driver, a man of the people" and "not a magnate".
On Tuesday, the US treasury imposed financial sanctions on Venezuela's First Lady, which the socialist called "illegal unilateral sanctions".
Mr Maduro, 55, also accused the US of "giving order to the rest of the world as though the world were its own property".
The socialist leader repeated accusations that the US was also behind a drone attack in August - an action the US denies any knowledge of.
The Venezuelan leader has been seeking a meeting with his US counterpart for almost two years.