Marbella Ibarra: Mexican women's football pioneer killed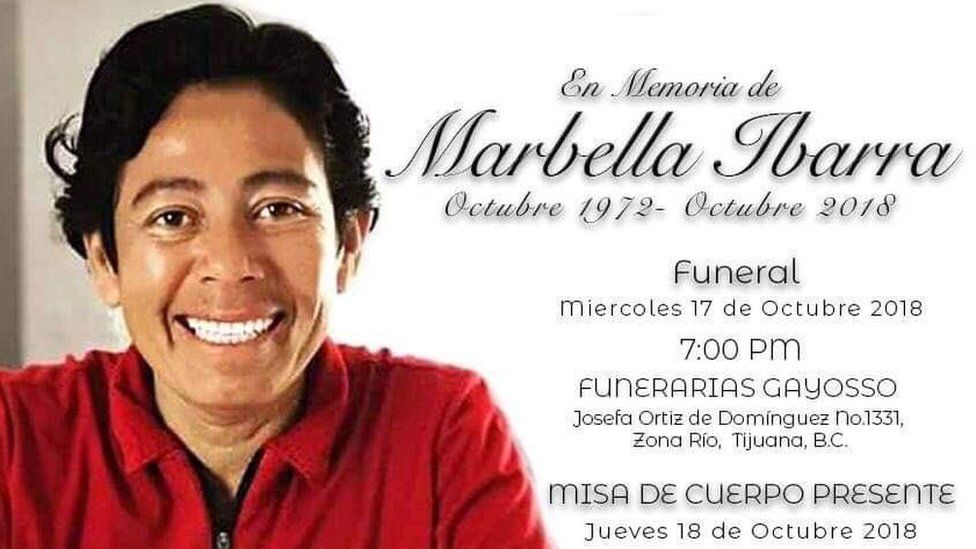 One of the main promoters of women's football in Mexico, Marbella Ibarra, has been killed.
Ms Ibarra was the founder of Mexico's first professional women's football team, Xolas de Tijuana.
Her body, which showed signs of torture, was found wrapped in plastic sheeting in Rosarito, a beach resort south of the border city of Tijuana.
She had disappeared last month and her family believe she was kidnapped. The motive behind her murder is unclear.
Officials said a post-mortem examination would be carried out to determine the exact cause of her death, but the case was being treated as murder.
Her hands and feet had been tied and she had been severely beaten. She is believed to have been killed on Friday but her body was not found until Monday.
Investigators say they think her murder is unrelated to her role as coach and football promoter.
Most recently Ms Ibarra had dedicated her time to a foundation helping young female footballer players financially so they could have trials with teams other than their local ones.
There was an outpouring of grief on social media, with many players recalling the influence Ms Ibarra had had on them and the support she had offered.
Her niece Fabiola Ibarra, who plays for Guadalajara-based football club Atlas Femenil and the Mexican national women's team, wrote that she would "hang on to all the beautiful moments I had with you and all that you did for me, you are the best friend, the best aunt and the best coach!"
me duele mucho saber que ya no estás con nosotros☹️me quedo con todos los bonitos momentos que viví contigo y por todo lo que hiciste por mi, te estaré eternamente agradecida,eres la mejor amiga,la mejor tía y la mejor entrenadora!Te quiero muchísimo❤️descansa en paz @maribarra6 pic.twitter.com/9CVAdNaziD

— fabiola ibarra (@fabibarra0) October 17, 2018
Inglis Hernández, who plays for Xolas, the team Ms Ibarra founded, wrote that "one day we will lift that cup again".
Quiero salir corriendo para abrazarte, mirar esos ojitos y dedicarte todo esto. También guarda un pedacito de cielo para mí. Algún día volveremos a levantar de nuevo esa copa. TE AMO PARA SIEMPRE MI MAR 💔😭 pic.twitter.com/ANYUWivO4X

— Inglis Hernández (@InglisHernandez) October 17, 2018
Barça Women and Veracruz's women's team Tiburones Rojos Femenil also expressed shock on Twitter.
Marbella 'Mar' Ibarra, founder of the Xolos women's team, was murdered in Tijuana. Her body was found bound in plastic tape in Monday. DEP Mar. https://t.co/L5tuAh3ENz

— Barça Women (@BarcaWomen) October 17, 2018
Ms Ibarra had not been a player herself but used her income from the beauty salon she ran to first fund an amateur women's team, Isamar FC.
She then founded the professional team Xolas de Tijuana, which first played across the border in the US women's league as there was no professional women's league in Mexico at the time.
Ms Ibarra fought hard for women's football to be recognised and played a key role in the creation of the professional women's league in 2017.
Her sister Mabel described her as being "football mad".
While Tijuana, the city where she was based, has long suffered from violence it has recently seen an upsurge in murders.
July of this year was the most violent month in the city's recorded history, with 251 homicides.
Many of the murders are linked to the drugs trade but kidnappings and extortion are also common.